Promoting Your Company Webinars: the Power of Your Employee Network
If you're struggling to get enough online traction to attract attention to your webinars, look no further. Here is a cool, simple, and innovative way we have seen working firsthand: an employee advocacy and social sharing exercise. Have your employees share webinar promotion messaging with their networks on social media to drive genuine attention to your online events. It worked for Ambassify; now it's your turn to try it out!
Nowadays, words like 'remote work' and 'remote learning' are no strangers to us, right?
Working from home has become more and more popular, especially since the odd pandemic forced everyone to stay at home. Remote work has its pros and cons, but one of its benefits has got to be having some extra time on our hands.
This is why it provides some great chances to catch up on some new learning opportunities, new ways of working, new platforms and software...all things we didn't have time for before. Which is why the number of webinars spiked as it did.
This, combined with so many normally-packed events sometimes going fully online, has made it a great time for people looking to gain some extra knowledge and step up on self-improvement. Companies worldwide are doubling down on this trend, but it comes at a cost.
The webinar dilemma...
Companies that organize webinars have had quite a hard time promoting them, or any of their content pieces for that matter, especially since the quest for the attention of an audience turned into an actual battle.
What it means is that your CPC and CPM on online advertising go way up, subscription rates are affected, and the time and effort you spend in producing and running the webinar has less impact.
Why even bother organizing and promoting webinars, then, you ask? Because we're about to suggest to you a smarter way to reach out to your audience, that'll make it worth your while.
...and its solution
And here it goes: at Ambassify, we decided to focus on producing more webinars as part of our content marketing strategy. Our goal was to educate our current customers on how to utilize the Ambassify platform and to attract new potential customers interested in building up engagement with their audiences.
Our outreach was based on a mix of social media advertising, email promotion, and some of our very unique promotional campaigns that we'd ask our colleagues to share on their own social media channels.
If you take a look at the stats from the data collection from our webinars of the last 12 months as a sample size, this is the percentage impact of the different channels on webinar subscriptions:
Existing contacts vs. new contacts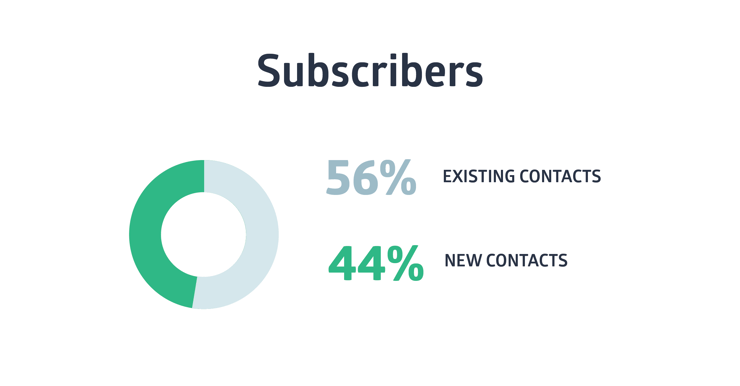 Channels driving our webinar subscriptions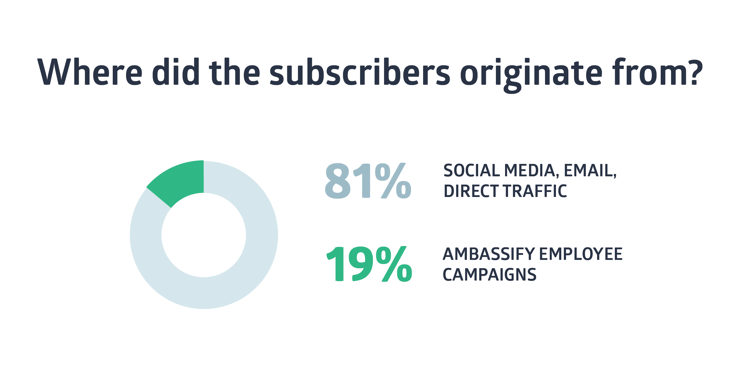 This includes a combination of social media ads (LinkedIn and Google Ads), posts on our Ambassify social media channels (LinkedIn, Twitter, Facebook), emails sent out to our contact list, and of course, our very own Ambassify campaigns for our employees to share.
So almost 19 people for every 100 subscribers came in thanks to employees' sharing activity of promotional campaigns via the Ambassify platform.
Not bad, right? What makes it an even more satisfying accomplishment is that it's 100% free of marketing costs. And yet, things get even more interesting when we look into the impact Ambassify campaigns had on the number of new leads generated.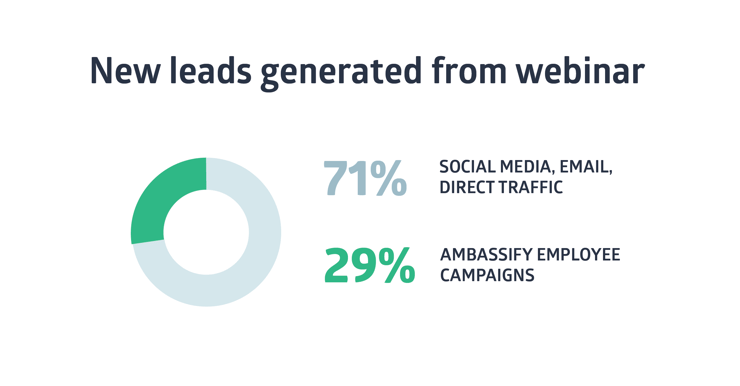 When it comes to effort vs. impact, the data speaks for itself. Sharing your promotional messaging for webinars via your employees not only contributes to your overall registrations but also counts for a significant percentage of the new leads generated.
On top of that, your CPC and CPAC costs are significantly reduced. You'll see that asking your employees to share content on their own networks has a powerful impact, takes no time to set up, and will cost you nothing.
Nice-to-have side-effects will include widespread engagement among your employees and a feel-good sense of accomplishment: knowing that you're doing your part to help your company be successful and grow makes you feel part of something.
The takeaway here? Encouraging this Ambassify-stamped sharing exercise can be profitable for your company in two ways — it will get you the exposure and attendance you seek and stimulate your employees in the process.
Find out how to leverage your employees' networks to decrease costs and generate leads
Book a demo