Supercharge Your Social Media Marketing With User-Generated Content
Getting potential customers to pay attention to your products has never been more difficult. Exposed to up to 3,000 brand messages PER DAY, it's no wonder that people are becoming fed up - turning off their TVs, ignoring billboards and banners, and installing ad-blockers on their devices.
That's simply the harsh reality of doing business in a society that's constantly hyperstimulated. You either learn how to cut through the noise, or you get eaten by the sharks - there are no two ways about it.
With the rise of social media, marketers were presented with a unique opportunity to solve this problem without spending a truckload of money in the process. I'm talking about user-generated content here.
What exactly is user-generated content?

UGC is defined as content that was created and published by unpaid contributors, or, more succinctly, your brand's fan base. We're talking everything here: images, videos, posts, reviews, testimonials - whatever appears as an online endorsement of your brand (and you didn't pay for it), can be (and often is) considered user-generated content.
Scrolling through your Facebook, Instagram, and Twitter feeds, you see dozens of UGC pieces every single day. Most of the time, you're not even aware of what they really are.
Of course, there are those that are just too huge to ignore and be oblivious about - for example, Coca-Cola's 'Share a Coke' campaign. That's a deliberate and orchestrated (but not paid for in any way) UGC campaign that the company has been running for quite some time now, and to great success.
Its 2015 iteration was deemed the most successful marketing campaign that Coca-Cola ran since its founding. It really pushed all the buttons and encouraged people to interact with it by posting photos on social media sites and even sharing physical bottles of Coke.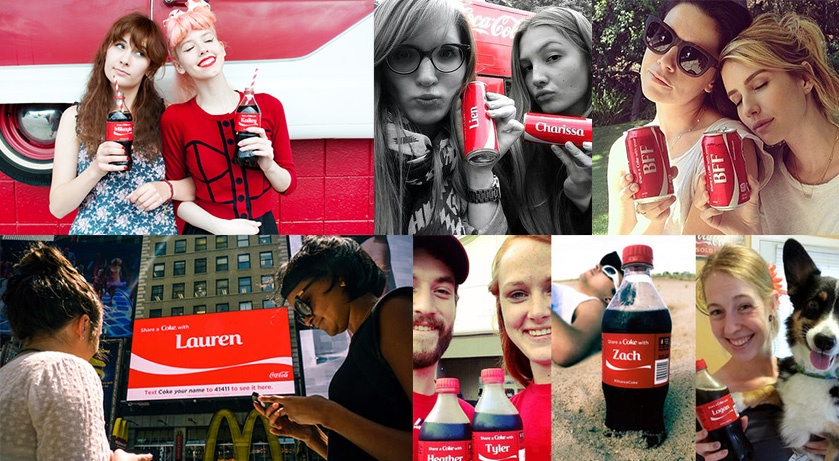 Judging from this particular string of Coca-Cola campaigns, it's pretty obvious that UGC works. It works so well that I firmly believe that all marketers should take advantage of it. So why don't they?
What's stopping you from trying? - awesome UGC and social media marketing stats

Some brands are missing the social media marketing and UGC train because they are afraid to let go - it's a question of control over the material that's being released that's associated with your brand. If you're one of those skeptics, allow me to share a couple of ironclad facts that might just turn you into a UGC marketing evangelist.
According to research done by AdWeek, 85% of surveyed users said that they find user-generated visuals more convincing than anything that brands put out. Unfortunately, according to the same AdWeek survey, only 65% of brands actually agree with this assessment - again, it boils down to not trusting fans. It also might have something to do with the misconception that handling UGC is hard work, when it actually isn't.


Since most UGC is created and distributed for and over social media platforms, let's take a quick look at how it fares there. The same AdWeek research found that users are 2X more likely to share something that's been created by other users, compared to images, videos, and posts that have a clear brand stamp on them. Think about that the next time your posts gets a measly 19 shares, despite being photoshopped, poked endlessly by a copywriter and a designer, and generally incurring a cost of several hundred dollars. For example, GoPro has been getting a ton of traction from their UGC campaigns and are generally regarded as a company that's crushing it at this particular marketing strategy.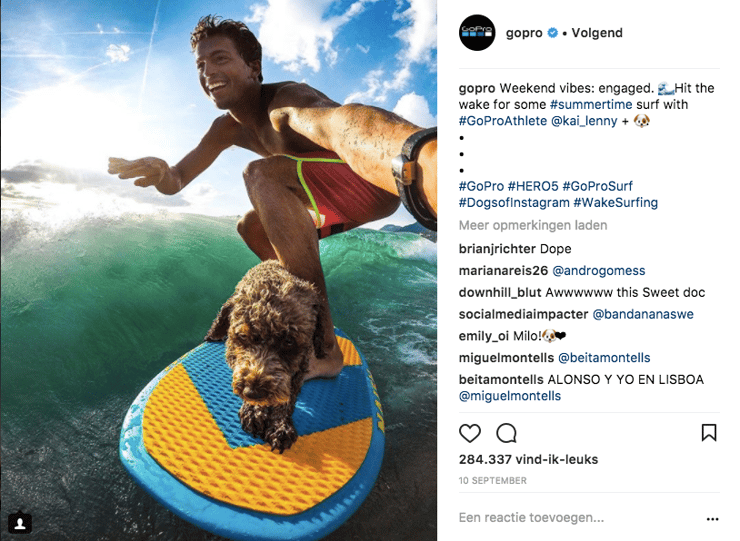 Even Facebook ads featuring a UGC visual are hands down better than anything the brands can come up with. They have a 50% lower cost per click and cost per acquisition rates. The same is probably true for every other social media platform out there.
Benefits of utilizing user-generated content
In addition to being almost free of charge (minus the cost of management and the occasional contest), UGC has other benefits as well.

And, before you dismiss your target community as one that's not likely to participate or would be unwilling to share content - according to SproutSocial, 75% of people are likely to share their positive brand interaction via social media sites. All you need to do is ask and you will get the opportunity to reap the benefits.
UGC benefits include:
A ton of shareable content on the cheap - actually, the best UGC campaigns are completely free. However, let's assume that people want a bit of tit for tat - if you want to drive UGC creation through your brand advocates, you will need to set up a reward system. Still, the total cost of running that is pretty much peanuts when compared to the benefits (and you can opt to reward advocates in other ways, which are not monetary).


Increase in engagement - GoPro has seen a massive uptake in social media engagement when they started with their UGC #GoProFamily campaigns. It's pretty rare to see a GoPro Instagram post that doesn't have at least a quarter of a million likes.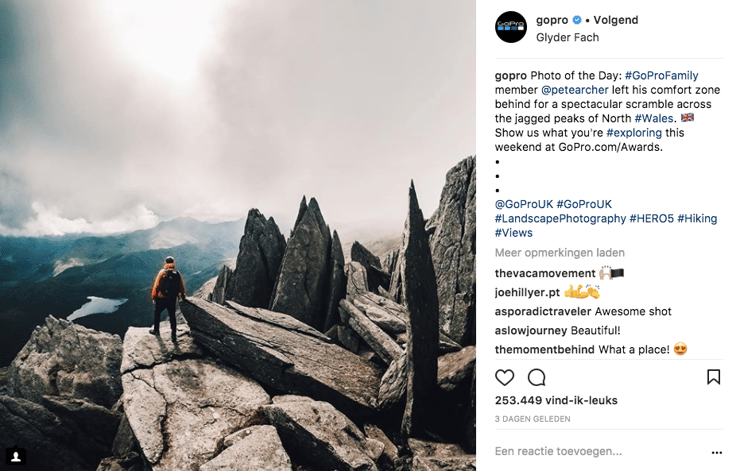 Increase in sales - it's not too much of a leap to assume that well-executed UGC campaigns can positively impact your sales. They did that for Coca-Cola and GoPro, and for a lot of other companies. In fact, exposing shoppers to UGC content while they are shopping on your site can increase your conversion rates by 4.6%!


Better SEO results - if you have a problem with your SEO, turn to UGC. According to KissMetrics, 20 largest brands in the world owe up to 25% of their backlinks to user-generated content.


Boost in trust and credibility - this is a big one. I've mentioned numerous times that people are doubtful of brands, but they don't seem to have a problem trusting their peers, even if we're talking about perceived peers on social media sites. It follows that UGC content is more trustworthy and you can use it to boost the overall sense of credibility in your brand.


Creating your UGC strategy
Although user-generated content isn't difficult to get, you still need a plan to make sure you're making the most out of it. Without a blueprint, you won't be able to run coherent campaigns and there's a chance that you won't be able to plug UGC into your overall marketing strategy.

Creating a simple guideline for UGC campaigns will give you a head start over the brands that approach it haphazardly. Here are a couple of suggestions that worked for me:


Choose a management tool - announcing a UGC call on social media networks and counting on people to flock to you rarely works. However, if you're already building an advocacy community, it takes just a few keyboard strokes to send out a call to all your participating fans. Also, a dedicated platform makes it easier to track and measure success, which is critical with UGC (as with every other type of marketing campaign).


Set UGC goals - are you looking to boost engagement on social media? Or maybe you would want to reach new people who've never heard of your brand before? How about pumping up those conversion percentages by providing a UGC incentive such as reviews and images in your webshop? The point is that you need to know what you want to accomplish with UGC before you launch a campaign and the best way to do that is to set clear and measurable goals. For example, online user reviews are a great way to boost sales so it's definitely something to keep in mind before you decide to focus solely on photos, videos, or other social media posts.


Select your platform and content type focus - be selective about your preferred social media platform. Not every type of content works everywhere so use the UGC goals that you've established to inform your decision-making process - Instagram, Facebook, YouTube, or something else?


Provide instructions - when running a UGC campaign, it doesn't really cost you anything to set up clear guidelines. If you do that, you will end up with more usable content. In fact, 50% of fans want clear instructions, but, unfortunately, only 15% of brands actually provide them.


Build a community - if you can even approach what GoPro accomplished with their #GoProFamily tag, you will hit pure gold. Once you establish a loyal community of fans willing to create content for you on a daily basis, there's not much else that you need to do other than maintain the momentum.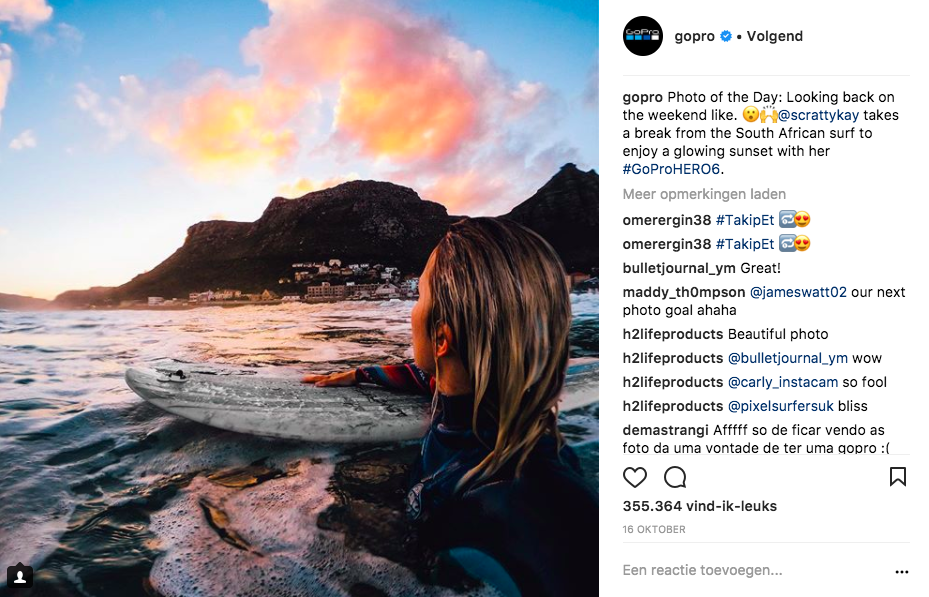 UGC is affordable and effective, so don't skip it
User-generated content profiled itself as one of the social media marketing strategies with the highest return rates. However, while it might be affordable, it's by no means cheap - it actually works and that's why big brands are using it regularly.

Combining UGC with your brand advocacy efforts is only natural (fans being organic advocates) and can really put you on the social media map in terms of interactions and engagement. Also, given that you will also see a marked improvement in sales, brand trustworthiness, and a lot of other metrics, I would say that UGC is pretty much indispensable these days.

Do you have any experience with user-generated content? If not, give it a try by following the laid-out strategy. Make sure to drop a line below and let me know how things are going - comments, questions, clarifications - I'll make sure to chime in if we get a discussion going!

Other blog posts that you might be interested in: