How to Develop an Employee Value Proposition (EVP)
Are you already familiar with the concept of employee value proposition? Itching to learn how you can make your EVP work better for you? To find out how to line up the best possible people for your interviews and keep your top performers happy? The answers to all those questions are in this post!
Just ten years ago, the top concern of any business was getting the sale — the war for customers was on. Now, the battle is on for talent, for the best employees…and the battlefield is brutal.
In this battle, your most effective weapon is a solid and attractive employer brand.
That's your reputation as an employer. It's what you communicate through your benefits packages, corporate culture, and recruitment communication and efforts. In short, it's what your employee value proposition (EVP) projects out into the job market.
A solid and well-thought-out EVP allows you to stand out in the job market and saves you money in the long run:
With an attractive EVP, an organization can reach 50% deeper into the labor market, even when reducing their compensation premium by half
Delivering on the EVP can reduce annual turnover by around 70% and strengthen new hire commitment by 30%
In organizations with a strong EVP, current employees act as sponsors and mentors to new hires (47%), facilitating better integration and retention.
Source: Gartner
What is the employee value proposition (EVP)?
The employee value proposition is a set of associations and offerings provided by an organization in return for the skills, capabilities, and experiences an employee brings to the organization.
Your EVP is both that and the optics of what you offer to your new and current employees and how well you communicate that through your recruitment advertising, employee advocacy, and employer branding social media campaigns.
"Your employee value proposition is a compellingly clear answer to the burning question that's on the mind of every candidate at the top of their professional game: 'why should I work for this company?' You need to know how to answer this without immediately defaulting to money or benefits. This is your brand's promise of who you are as an employer — there should be more to it than fat bonus checks and corporate lunches." — Koen Stevens, CEO, Ambassify
Remember that money and perks don't play much of a role for most candidates (especially millennials) compared to the other four categories that shape the EVP.
Rewards. Is your remuneration package in line with what your competitors are offering for similar positions? Is it in line with industry averages, especially for the location where you're hiring?
Work. Are you doing a good job matching people to job descriptions? Are you delivering the work-life balance that the candidates are expecting?
Organization. How do your company values compare to those of your ideal candidate? Does the overall goal of the company inspire potential candidates to do great work? What about your company culture?
Opportunity. Are your current employees satisfied with internal opportunities? How much are you investing in training and professional development?
People. Are you attracting those people who are a cultural fit for your organization? Do employees feel connected to their peers? Are they forming friendships?
What are the core benefits of a strong employee value proposition
Yes, EVP can look like a lot of extra work, especially if you're already swamped with more pressing HR obligations.
After all, you advertise a vacancy, get through a couple of interviews, and poof… someone gets hired. But, are you hiring the right person for the job (and the culture)?
Fine-tuning your EVP now will save you time and money in the future because it's going to remove that ambiguity from the equation. Every time you hire someone, you'll be 100% sure that you've made the best possible choice in a barrel-full of qualified candidates.
The benefits of a strong EVP are:
Competitive advantage. Want to stand apart from your competitors in the job market? Make sure your EVP is the talk of the industry.
Broader reach. Landing on a few "Employer of Choice" lists will result in free publicity, such as mentions in industry journals and social media sites.
Stronger attraction. You'll likely halve the time needed to find a perfect candidate for any of your openings. In part, that's because you'll get a bunch of unsolicited resumes every other day. Mostly, though, it's because you will attract those candidates who are a good fit.
Higher retention rates. Back-to-back candidate interviews will become a thing of the past. Unless your organization is growing rapidly, you won't need to hire often because your employee churn rate will remain low and stable throughout the year.
Improved employee advocacy. You'll see increased employee advocacy once you build a strong employer brand based on a thought-out EVP. A great company-employee fit = a satisfied employee = an employee that wants to brag about you.
It's as simple as that (and it's going to save you a lot of marketing money).
5 steps to create a compelling EVP
Now that we've discussed why your EVP is important, it's time to take a look at how you can build one that will work for your organization. Generally, you'll want to follow these five steps (especially if you don't have a codified EVP right now):
Analyze your current EVP and confirm it with your employees
Create the avatar of your ideal candidate
Develop key components of your new EVP based on the perfect candidate persona
Craft your EVP statements & messaging
Market and promote your EVP to the right audience
When you don't create an EVP (and the kind of workplace that attracts the people you're looking to hire) from day one, the first step is to identify where you stand with your employer brand.
Start by going through the five EVP categories mentioned above: rewards, work, organization, opportunity, and people. Take a hard, long look at all the components, create a checklist, and self-assess.
Give yourself points for those components you're crushing, like having an above-average compensation and benefits plan that keeps your employees satisfied and happy. That said, don't forget to factor in negative points for the components you're missing or not doing enough to ace (like not offering paid leave or not continuously training your line managers).
Also, don't skip current and past employee interviews during this process. Often, management feels they're doing relatively good in some areas, only for those to turn out to be wildly unpopular with employees. Interviews will quickly set the record straight. They'll give you a chance to ask more probing questions to see what's motivating your top performers to stay and what caused past employees to leave.
Define the ideal candidate for your organization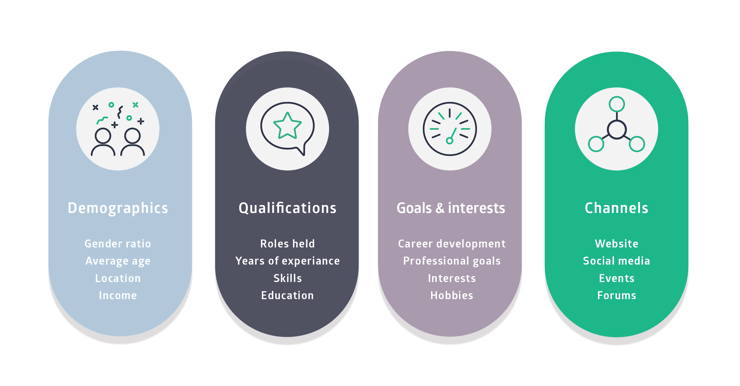 Essentially, the profile of your ideal candidate is like a blueprint of the person you would hire in a heartbeat.
They can more than handle their job responsibilities; their values align with company values; they're a perfect match for the company culture and your current employees. When creating a candidate profile, the more personal you get, the more valuable it will be.
This means not focusing purely on demographics and education but also figuring out what your ideal candidates like, how they think, and what makes them tick.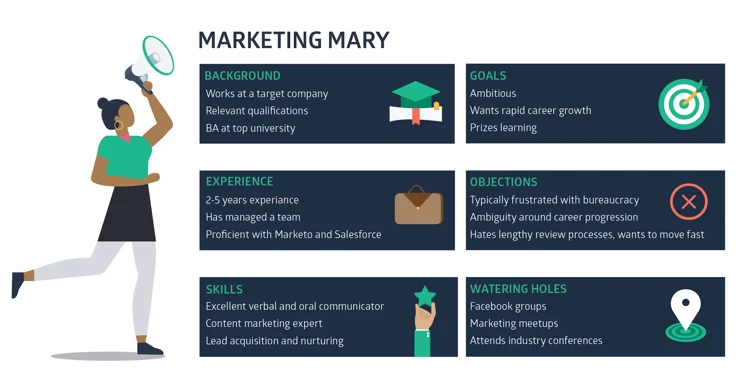 As you're mapping out the qualities of your ideal candidate, think about where you can usually find them. Are they hanging around in Facebook groups, advising industry newbies? Or are they rubbing elbows with other professionals at industry conferences? Knowing this will help you when the time comes to market your employee value proposition.
Map out the key components of your EVP
Now that you know your current EVP and outline your ideal candidate, you can start reconciling those two things. Keep an eye on the information you've gathered in previous steps when answering the following questions:
What's most important to our ideal candidate: salary and benefits, career advancement opportunities, or alignment with company values?
What do we need to change in our current EVP to get closer to what our ideal candidate is looking for?
What's an approximate salary range or type of benefits that our ideal candidate would find attractive?
What type of work environment does this person find stimulating and engagement-driving?
Once you have the answers, see how closely you can match your EVP to candidate expectations. At a minimum, match career growth, development, and work environment expectations since younger candidates value those more than money or benefits (but make rewards a non-issue by staying within industry averages)
Keep in mind that you won't be able to check all the boxes; that won't matter as long as you focus on improving those components that your target audience values the most.
Craft your EVP statements and messaging
Distilling your EVP to a single sentence is tricky, so don't even try to do it. Stick to saying as much as you need to speak to get your message across.
When hiring for specific positions, segmenting your EVP is often the key to attracting the right candidates. You'll still want to stick to your overall theme and tailor your messaging to resonate with those audiences that would be the best fit for the role.
Interns or recent graduates EVP. Emphasize learning opportunities, career advancement, and how great this job experience would look on their resume.
Leadership roles EVP. Experienced professionals will appreciate challenging and fun projects, organizational support, and a flexible work environment.
Independent work EVP. Hiring writers, designers, and others with a creative bend? Center your messaging around a not-so-serious work environment and flexible hours.
Promote your EVP using the right channels
So you've analyzed your current employee value proposition, identified where it falls short, and made changes that bring it more in line with what your ideal candidate expects. Your next step is to promote the heck out of it by taking a two-pronged approach:
Internal EVP promotion. Make the changes known internally. Use your newsletter, blog, careers web page, town hall meetings, and employee advocacy programs to get the word out to your current and past employees. If you have an employee advocacy program set up, don't forget to create specific campaigns to encourage social media shares and referrals.
External EVP promotion. Share your new, better, and bolder EVP with potential candidates by taking social media by storm. During the initial push, make sure to invest in paid promotion on those platforms that make sense (use your ideal candidate profile as a guide). Additionally, don't forget to update your current job openings and your profiles on recruitment websites.

Once you've gone through the lengthy process of creating a new, targeted EVP, create as many touchpoints with it as possible throughout your recruitment process. You want it to be visible to passive job seekers, potential candidates, and current employees because that visibility will make your company more recognizable and attractive.
Unleash the power of your EVP with Ambassify
Every time your company publishes a job opening, the race is on. Who will your ideal candidate choose — you or one of your competitors? And will your opening even register on their radar?
It all comes down to how strong your employer brand is and how much thought and effort you've put into building up your employee value proposition. And when it comes to promoting those two things (both internally and externally), there's a way to supercharge your efforts.
That's where Ambassify comes in: with Ambassify's built-in employer branding features, you can keep everyone informed about current job openings, create a tight-knit community of employee advocates who are active on socials, and quickly share brand-building information and initiatives by tapping into your advocates, which will allow you to reach deeper into the job market, and attract the best talent.
That's where Ambassify comes in: with Ambassify's built-in employer branding features, you can keep everyone informed about current job openings, create a tight-knit community of employee advocates who are active on socials, and quickly share brand-building information and initiatives by tapping into your advocates, which will allow you to reach deeper into the job market, and attract the best talent.
Book a demo