How to Increase Engagement among your Ambassadors
Not too long ago, during our latest Share Your Brain Session, the Customer Success Team had the chance to put their heads together with a small group of customers.
The idea?
Discuss and find solutions to increase the engagement of the employee-Ambassadors on the platform, and to fuel engagement and participation outside of it.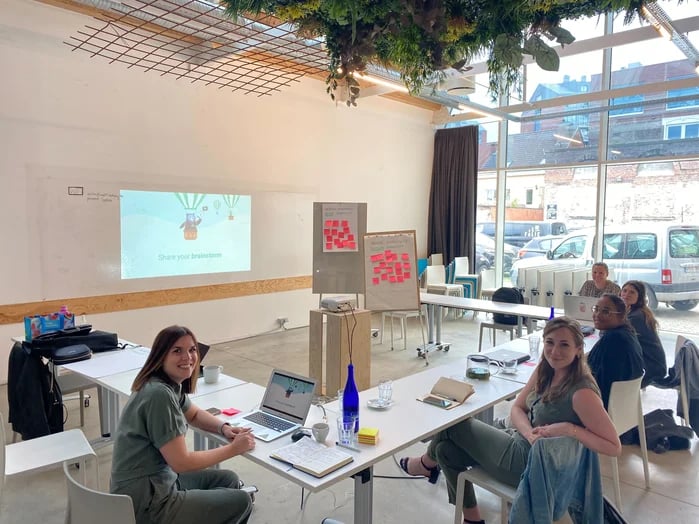 Not too long ago, during our latest Share Your Brain Session, the Customer Success Team had the chance to put their heads together with a small group of customers.
This time we turned it into a "Share Your Brainstorm."
The idea? To discuss and find solutions to increase the engagement of the employee-Ambassadors on the platform, and to fuel engagement and participation outside of it.
The result was so promising that we figured it was worth sharing with the world.
1. Messages
With both manual and automated messages, you can make sure that your Ambassadors are informed by email about new campaigns.
In addition to that, our automatic digest ensures members receive a personal overview of the campaigns they have not yet participated in at the end of each week.
If you're worried this will be too many emails for the Ambassadors, let me reassure you — they will not be overloaded with emails. The digest is just a way to reach out to them regularly in a targeted way.
That's not even the end of the story. We've recently added workflows to the mix!
Workflows is an automated way of working where different events trigger an automatic email notification to admins and/or members.
To give you an idea, with workflows, a member can receive an email when someone responds to a comment they left on a campaign and continue the conversation. Or when someone has mentioned them in the comments of a campaign.
An admin can receive an email notification when a member has claimed a reward — you can even send one to inactive members to encourage them to become active again.
These are only a few examples, but workflows offer many more actions (and it's constantly expanding!)
2. Comments and replies
Now, if you're a careful reader, you'll have noticed among the workflow examples mentioned above that members can be mentioned in the comments of the campaigns.
As a matter of fact, members can comment on a campaign, reply to existing comments, and even tag other members in them — with the possibility to activate workflow notifications for each action, of course.
This way, it'll be easier for your Ambassadors to interact with each other on this or that topic, which, in turn, will strengthen the community feeling and facilitate starting conversations.
An extra perk for community managers? You will no longer miss a single response (and you can always jump in on every cool conversation your Ambassadors start).
3. Push and pull campaigns
Social Sharing Fatigue is real, and it can be an issue. So we dove deep into the matter to define an avoidance strategy. The number 1 thing to remember is to use a combination of different campaign types without focusing too much on asking your employees to share your content.
The idea is to generate engagement and involvement. To do that, your Ambassadors need to feel and know that you value their input as much as their output. Asking them to share content is only one way to interact with them, but there are many more instances.
Are you creating a new design for company merchandise? Ask your employees which one they like best via a short poll.
Do you have an event coming up? Let employees vote for their favorite catering option.
4. Ask for feedback
Something that could easily fit nicely in with the topic above is feedback. Regularly asking your Ambassadors for feedback lets them know that you are making choices together and that their opinions are valued and searched for.
What do they think of the content?
What do they think of the frequency of the campaigns?
Do they want additional training?
Do they feel comfortable sharing on Social Media?
Asking for their opinion and acting on it is crucial – you will quickly notice an improvement if your employees feel they are being listened to.
5. Rewards and gamification
Rewarding your employees for their actions will certainly make them happy. This doesn't have to be the main driving force for your community, but it can certainly help fuel engagement.
Remember that an interesting and relevant piece of content will more often than not be sufficient motivation for your employees to interact. Yet, it is nevertheless rewarding to be recognized for pitching in and doing one's part by interacting with a campaign in the community.
Another form of recognition is to announce your employee/Ambassador of the month on Social Media — which will have the extra benefit of working as social proof. And you can never have too much of that.
Don't want to offer permanent rewards?
Then it might be fun to do a summer challenge — at the end of the summer, you can give away some nice prizes to your most active Ambassadors on the platform.
This is for sure something worth a second thought. You can also offer rewards that resonate with your company culture and values — branded merch is not the only option here. What would your employees love to have? Pick something that entices them, that hinges on the shared values between you and your employee Ambassadors.
What can you still do outside the Ambassify platform?
Info and training
Provide sufficient information sessions and training opportunities to your employees if you want them to feel comfortable using the platform.
But that's not where it ends; it does not always need to be about Ambassify. Different workshops and webinars will strengthen your employees' knowledge and have the positive side-effect of making them feel more comfortable and knowledgeable when using Ambassify.
Think about Social Media training in general, or specific, LinkedIn-focused sessions. The list goes on and on.
If you're looking for some inspiration about this, you can look at the Ambassify Services offering and get in touch with our service partners.
User interviews
The best Ambassadors for your Ambassador program are your current Ambassadors!
Isn't it an excellent idea to hold small interviews with your Ambassadors and ask them why they are doing it? Then you'll have the best testimonials to convince more and more employees to join the program.
Organize an exclusive event for your Ambassadors
Involving your Ambassadors is the core idea here, anything that entails collaboration, cooperation, and engagement works.
And what's more suited to this purpose that an exclusive event for them?
Something either small or large, it doesn't matter. The point behind it is that you celebrate them, you give them something to recognize their efforts, to show them that you are grateful for their work and for your collaboration.
Besides, throwing an exclusive event can be an excellent initiative to attract more new Ambassadors and, indeed, entice more employees to join the program.
Involve the Ambassadors in the onboarding of new hires
This is just the natural following step of everything that's been said up until now. If you establish such a relationship with your Ambassadors, it will come naturally to you at some point to involve them in the onboarding process of new hires.
Briefly explain what your advocacy program includes and entails, what it means to be a company Ambassador, and put together an onboarding package with a QR code to easily sign up to the platform, some extra training information, and some advocacy-useful gadgets like a selfie-stick and the likes.
Showing them around, being their buddies, and helping them navigate the intricacies of a new company is a job most Ambassadors will enjoy doing. it will make the new hire feel like they belong from day one, and who knows, it might very well also entice new hires to take up the role of Ambassador!