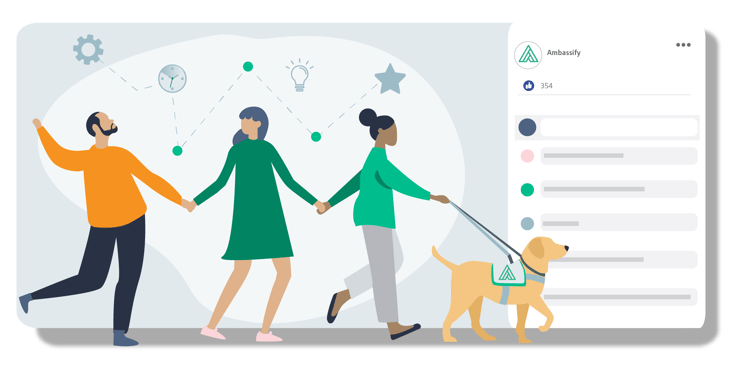 The definition of employee engagement is pretty straight-forward:
"[Employee engagement] is the emotional connection employees have to their company. It's their willingness to continually go that extra mile when on the job because the success of the company is a matter of personal pride".
The definition, however, doesn't do justice to the complexities that you will encounter when trying to increase the overall engagement levels in your organisation.
The operative two words in this definition are - emotional connection.
This might give you the impression that your employees should feel happy when coming to work. They should - employee happiness is a factor in engagement. Unfortunately, it's not a defining factor.
Employees can be:
a) happy but unmotivated, and
b) happy and motivated but unproductive.
This brings us to the next part of the definition - willingness and the ability to go above and beyond for the company. Willingness to execute at the highest possible level, yielding the best results in any given situation.
High employee engagement, by definition, results in employees giving it their 110% to complete assigned tasks or tasks that need doing. They even go beyond that, proposing new business ideas, collaborating with colleagues from other departments to solve glitches and problems at an operative level, and looking for new ways to grow the company's bottom line.
By focusing on improving employee engagement in your company, you can do more to ensure its bright future than if you work 24/7 on finding new clients. That's because, according to Kotter and Heskett, a mere 1-point increase in overall engagement can result in a 4X increase in long-term revenue.
The statistics on high employee engagement speak for themselves:
Engaged employees bring 43% more revenue than other employees (Hay Group Study).
We've already mentioned that working on increasing employee engagement in your company means working with a lot of moving parts. In our Ultimate Guide to Employee Engagement, we've divided those parts into seven distinct categories that you can easily focus on - one at a time - without getting confused or overwhelmed.
At Ambassify, we call those categories the 7 Pillars of Employee Engagement, and they are:
Company-employee value alignment
Personal & professional growth opportunities
Employee health and wellbeing
Employee advocacy and ambassadorship
Relationships with managers
In this guide, we will dive deep into each of the categories, explaining what they are and how to work on them to improve the overall employee engagement levels throughout your organisation.
You will also learn how engagement is connected to internal communications (hint - it's the first thing you need to start working on), and how to measure your engagement efforts once you get started so you know that you're on the right track.
Are you ready to peek under the hood of your organisation and start working on things that will have a true impact on your bottom line? If you are, download Ambassify's Ultimate Guide to Employee Engagement, follow the steps that we've outlined, and make your company one of the top contenders in your industry!