How Should You Communicate about Sustainability?
Why should you communicate about sustainability as a company? What could possibly refrain you from doing so? And then again, how should you do it?
During our live event, sustainable behavior expert and regeneration specialist Jorn Craeghs led our discussion and workshop by tackling these questions in an introductory keynote. Check out the highlights in this blog post!
Why should you communicate about sustainability?
In today's day and age, it is crucial to communicate about sustainability as a company. Leading change and leading the sustainable transformation businesses need to go through on a global scale to be able to repair the harm done to the planet and to make businesses sustainable in the future.
Make your brand stronger
This might be one of the most common reasons behind communicating sustainability, but indeed there is significant evidence that shows that strongly talking about sustainability can make your brand more trustworthy.
The reason why is that it shows the public that your company is a thought leader when it comes to tackling what is now the biggest issue we are facing as a global community.
💡 Decathlon in Belgium is a good example of how this can happen.
In the past few years, they have really been focusing on connecting the core of their business model — producing sportswear — to some circular and sustainable initiatives. They've been calling that the 're-sports deal': they buy back second-hand sports clothes, repair and resell them second hand and then produce new, recycled, and eco-friendly sportswear.

There are no two ways bout this: their brand perception has improved because of this. They have found a way to brand and market this smartly so that it has also improved their brand perception in the B2B context, for example, with companies they sell to and source from, etc.
It's winning the war for talent
In 2019 Bain & Company found that 6 out of 10 Millennials choose their employer mainly for the employer's purpose. More than 70% of them are willing and looking to work with brands that have a strong, sustainable commitment ahead.
This data shows how important this is becoming: when having conversations with potential new hires, sustainability is always part of that conversation. Your sustainable agenda is a crucial hiring point.
On the level of financing and investments, Larry Fink – CEO of Black Rock – released a statement in 2021 declaring that investing in climate solutions is a priority. A year later, he doubled down on it, saying he noticed a tectonic shift taking place, and he saw investment in climate solutions growing faster and faster, even during the pandemic.
When Larry Fink speaks, the financial sector listens. His voice creates a big momentum, and that's another reason why sustainability is getting more and more important.
You can inspire other organizations
The urgency and the transition we are dealing with are so severe that we need to get other organizations on board; we need to work together on this. This sounds counterintuitive in a competitive market space, granted, but we all need to move forward and take the same actions together to really bring about this transformation.
A current phenomenon gaining traction is that of steward ownership: this is a financial business model when you declare that the profit of your organization goes not to the shareholders but to your purpose as an organization.
💡 This was made global news by the owner of Patagonia – they shifted their model to steward ownership, so the profit of the brand is either going back into the organization to produce sustainable outdoor clothing and gear, or to the climate solution and biodiversity protection initiatives they're committed to.
And that has had an effect because a ton of companies have started to do the same since then.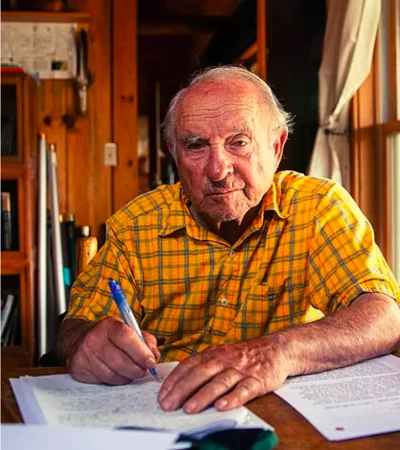 Why should you not communicate about sustainability?
The European Commission has recently started to conduct research about green claims, and they have found the following:
53% of green claims give vague, misleading, or unfounded information
40% of claims have no supporting evidence
Half of all green labels out there offer no form of verification
There are a total of 230 sustainability labels and 100 energy labels in the EU, with very different levels of transparency
We really need to be aware that this level of vagueness can give the general public the feeling that a lot is happening while it actually isn't. This can be damaging. First of all, because it contributes to misinformation and greenwashing; second of all, because then people will start to think their job is done, sit back, and not really support the transition we need because they feel like their input is not needed.
Morals
Morals can be both a reason to communicate about sustainability and a reason not to do it. If you're not really putting in the weight, not really doing the work, or doing very little to support the sustainable transformation and still communicate about sustainability with vagueness and lack of clear reference and transparency, then you are, again, contributing to misinformation.
There are several companies that add to that, already.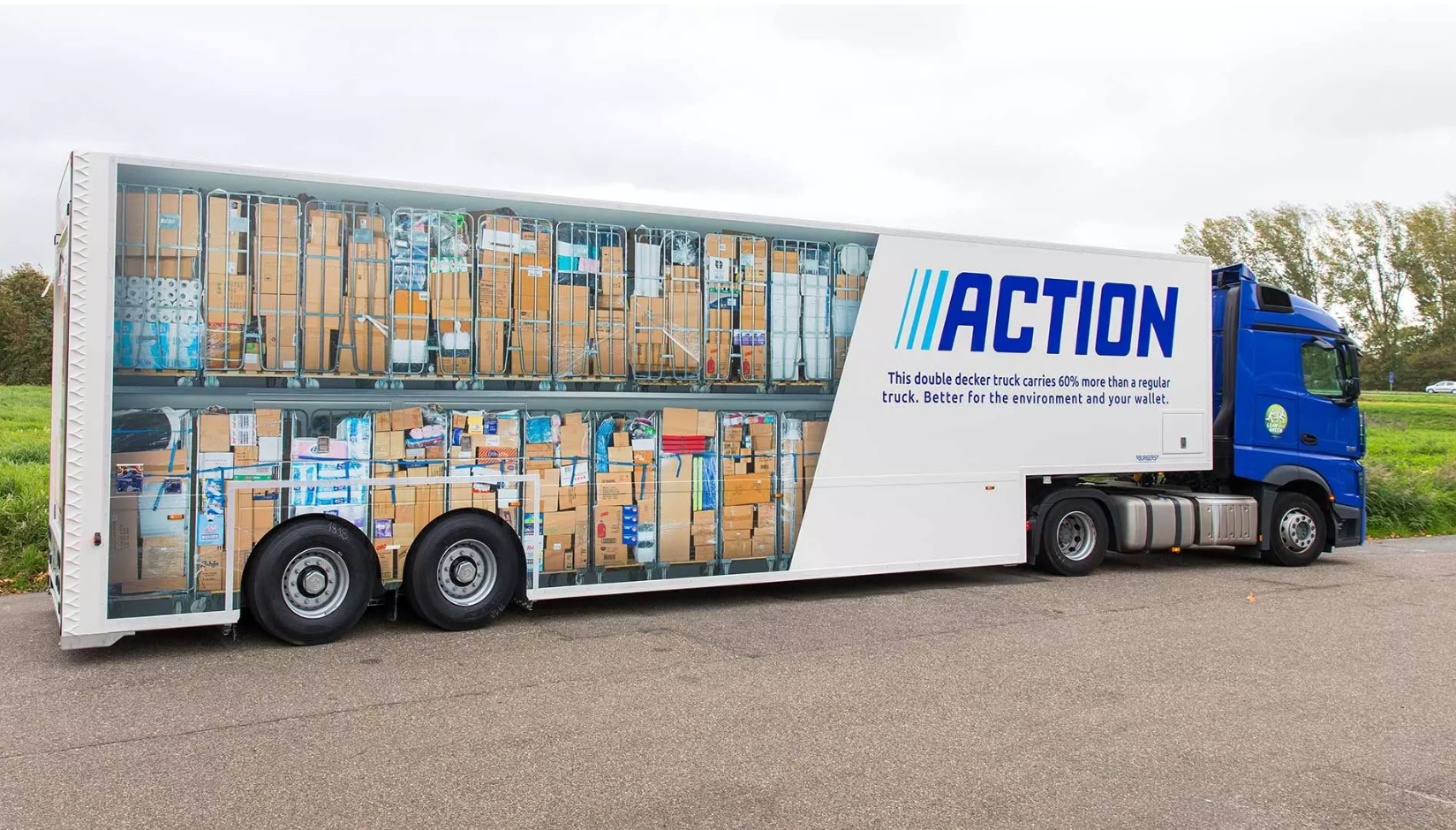 💡 Action claims their double-decker trucks carry twice as many goods as a normal truck which is better for the environment and for the wallet of the consumers. Now this is true because it is carrying a lot more stuff. They are, however, bringing this on a brand level, implying that they are then making huge progress for the environment. They are using it to uplift their brand, while on a business level, there is still a lot of un-sustainability happening in Action.
On a morality level, this can be considered a form of greenwashing because you are taking it to that level.
Reputation damage
This has been part of the debate for a long time. The thing is: there is such a thing as bad press; there is news that can harm your brand and your reputation. Harvard Business Review found that customer satisfaction scores are dropping but 1 to 3 percentage points because of sustainability reasons. Even a 1% drop can have a significantly negative impact on a business, and reputation damage in the years to come is gonna be increasingly bigger.
In The Netherlands, the Authority for Consumer and Markets has been conducting some investigations and analyzing some companies like H&M and Decathlon.
💡 Within H&M, they investigated their claim that fashion and sustainability go hand in hand, and their label, H&M conscious. And that was found as being too vague.
💡 For Decathlon, the vague claim was last year's message of 'ecodesign,' which wasn't backed up by anything, so this label was also deemed too vague.
Lawsuits
The EU's policy dealing with fake or vague claims and different forms of greenwashing is to bring people to court. Greenwashing lawsuits are happening more and more often now in Europe, fighting for ClientEarth.
For example, KLM was sued because of their brand campaign, 'Choose KLM and fly responsibly'. That is because a small percentage of their money is going to biofuel, and they claim that you can offset a bit of the carbon emission of your flight. All the climate-neutral claims in this sector aren't authentic because the offsetting industry isn't there yet.
The European Commission has agreed to a proposal for a directive for ground green claims to really fight greenwashing, and they want to come up with a directive on how to communicate about sustainability.
3 tips on how to communicate about sustainability
Honesty
When we say something about sustainability, is it true? Are we being honest?
💡 The 2022 World Cup was marketed as a carbon-neutral World Cup, which was, at the end of the day, not true and therefore not honest. If you start delving into that case you see that it becomes misleading and dangerous.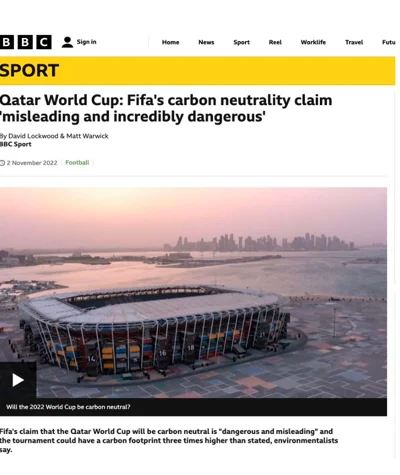 💡 Primark is a fast fashion brand selling extremely cheap clothing. They sent out the brand message that 'Primark cares' – and this is fundamentally not honest. If you start investigating their value chain, then you easily discover unsustainable production methods and conditions that allow for the clothing to be so cheap. So do they really care? Does the message then truly apply to the brand level?
We need to think that for every organization, it's a journey; nobody is there yet, and nobody is a sustainable organization. Patagonia is also not there yet – and you won't hear them say they are a sustainable company.
💡 As a good example, let's look at Brussels Beer Project. Their brand message is that 'it's an imperfect journey'. We are making efforts, and we are doing some good things, but we are still doing some things badly. And sustainability experts, as well as the general public, really appreciate this message because it is honest.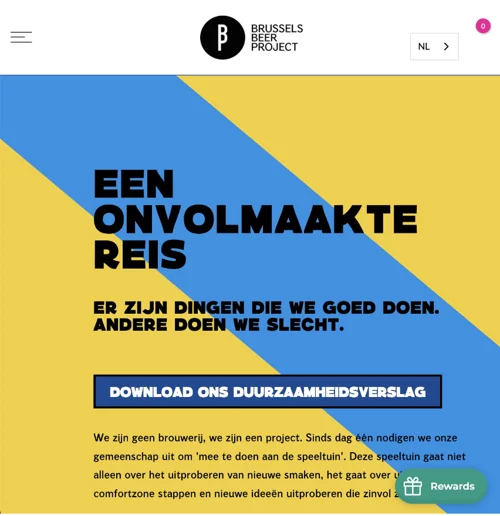 💡 Oatly, the oat milk brand, communicated in their sustainability report what they are doing right and what they are doing badly too. They are open and transparent in talking about this.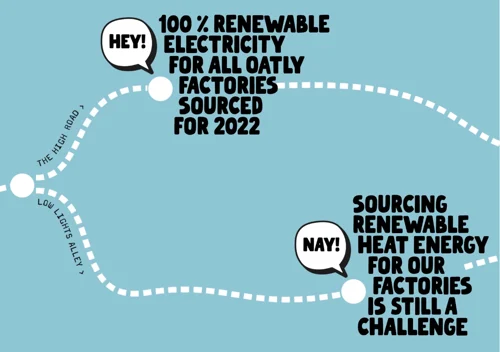 Concreteness
Is what we are saying concrete?
💡 Adidas released a brand campaign about their shoes, Stan Smith, saying that they are 'sustainable, made of 50% recycled materials' and attached an 'end plastic waste' label attached to it. A complaint was filed about that because the '50% recycled' label is too vague and there is no verification behind it, and the 'end plastic waste' is overpromising. This is not concrete – in fact, any sustainable claim is already too vague if you can't back it up immediately with data that makes it more concrete.
The European Commission is giving guidelines about how to be more concrete with sustainability claims:
This packaging is made of 50% of recycled material. This makes it concrete enough because you're saying which part is recycled and how much of it.
A company's environmental footprint is reduced by 30% since 2015. This is also concrete; you're not claiming to be sustainable or that you care, but you're giving a concrete number.
Relatively relevant
Is it proportionate? Is it relatively relevant?
Relatively relevant means don't talk about stuff that's already legally obliged and don't oversell your initiatives if they're obscuring the bigger picture.
💡 A good example is what Burger King in Vienna did. They launched a campaign, 'Normal oder mit Fleisch?': if you order a whopper burger at Burger King, you get a plant-based burger, so if you want to order a meat burger, you have to ask for it specifically. They switched the default option; they made their core product a sustainable product.

Talking about sustainability is important; we will have to talk about it in our lives and in our company. We do need to refrain from a moral point of view and from a reputational or financial point of view – and how can we do it in a way that we can reap the benefits? First by being honest, second by making our communication as concrete as possible, and third by only talking about relevant stuff.