The Ultimate Guide to HR Digital Transformation (Part 4)
In this post, we'll show you a couple of concrete use cases of HR digital transformation. Examples like these will help you visualize your own transformational roadmap. They'll help you answer the why, the how, and the when of HR digital transformation. That way, once you have the resources and the know-how, you can confidently jump in and have something to show for it in no time.
Have you just stumbled upon this article? Be sure to check out part 1, part 2, and part 3 of this guide!
How IBM, Hilton, and L'oreal use AI to reinvent their recruitment processes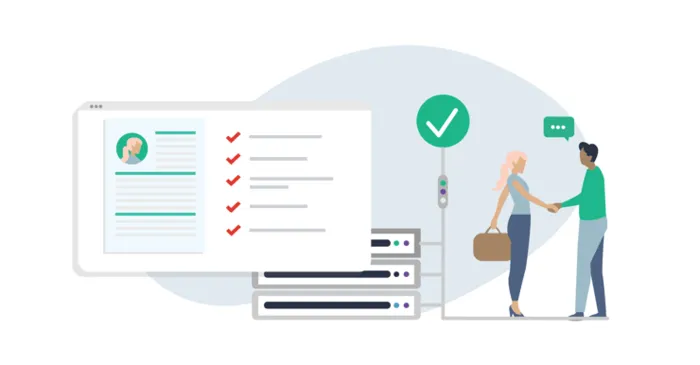 When you hire someone who's not a good fit for a role, they can cost you an additional 30% of their first-year salary.
In most cases, bad fits will also result in additional loss of productivity1. On average, managers waste 17% of their time supervising those employees. And their colleagues waste time cleaning up the messes. Our first HR transformation example demonstrates why AI is now taking center stage in the recruitment process.
IBM
At IBM, it's their AI that's the antidote for many recruitment-level headaches. IBM Watson Recruitment helps recruiters identify which roles to prioritize over others. It matches candidates' skills to the job description requirements. This allows the HR department to focus on those candidates who are more likely to excel at the company.
Hilton
The Hilton hotel chain also uses an AI-powered screening process to fill roles quickly. The organization increased its speed of hiring by 85% since launching the program. It took them 42 days since interviewing someone to make an offer in the past. Now, it takes them five days.
"Once we started leveraging AI in our recruitment process, we noticed other benefits. Our talent pool is more diverse now, and our recruiters are able to quickly identify high-performing candidates." — Sarah Smart, Hilton VP of Global Recruiting.
L'oreal
And at L'oreal, the world's largest beauty company, recruiters are inundated with 5 million applications every year. Instead of wasting months sifting through them all, the HR team deployed a robust AI solution. This solution lets them analyze the language of applications at scale, identifying the ones that need to be seen by a human. This resulted in an 82% increase in their offer-per-interview ratio.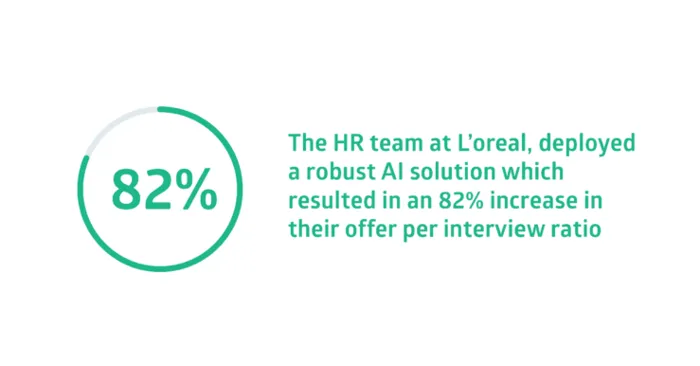 how Siemens & IBM partnered up to develop CARL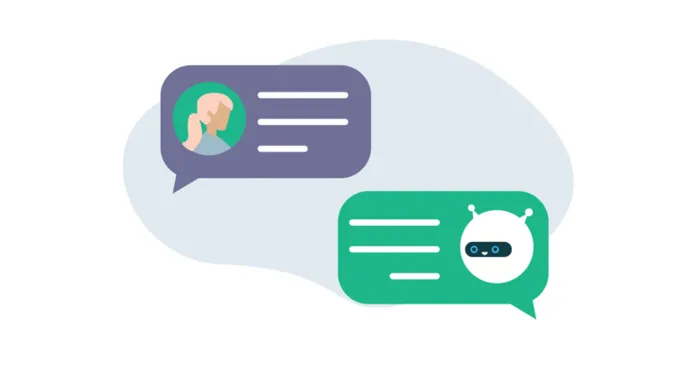 Employees know that their best chance at professional success lies with those organizations that continuously invest in developing their people. Millennials, in particular, seriously weigh the company's learning and development initiatives before they decide to pull the trigger on a job offer2.
In smaller organizations, L&D can be personalized on a case-by-case basis. However, in large multinational companies, scaling this becomes a problem.
That is why Siemens, a company that employs more than 300,000 people, partnered with IBM to create CARL3 (Cognitive Assistant for Interactive User Relationship and Continuous Learning).
CARL is an AI-driven, self-training chatbot that helps Siemens employees find answers to common HR questions. The Siemens team emphasized L&D-related questions to provide their employees with easier access to internal programs.
The more questions employees ask, the better CARL becomes at answering them. Siemens HR executives credit CARL with allowing the company to:
Provide a better experience to employees around the globe. CARL answers questions without delay and without ambiguity.
Save the HR department's time and resources. Siemens' HR professionals no longer spend hours answering employee emails.
Inspire more employees to explore internal L&D opportunities. CARL removes the hassle out of inquiring about Siemens' L&D initiatives, making them more accessible.
You can easily implement this shining example of HR digital transformation in your company, regardless of its size.
Research shows that personalizing L&D leads to an increase in employee engagement4, boosting productivity and satisfaction at the same time. This shouldn't come as a surprise. Weaving artificial intelligence into your systems can help you create targeted L&D programs, serve relevant content to individual employees, and save everyone's valuable time.
Ceridian, HiQ Labs & IBM take on employee attrition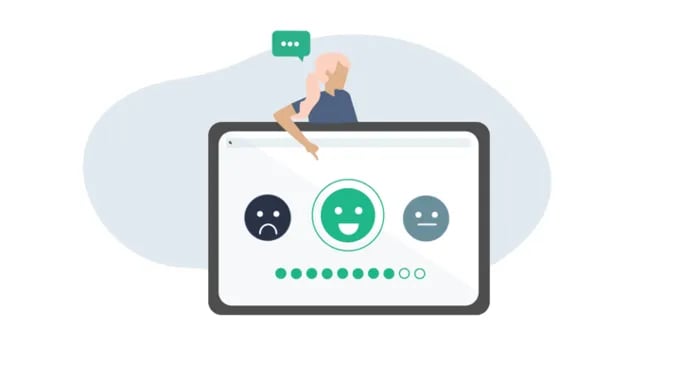 How valuable would it be for you if you could pinpoint the exact moment a high-impact employee starts thinking about leaving your organization? Or if you could do it sooner before the thought of departure even forms in their head?
Very valuable, right? That's because employee attrition costs organizations billions of dollars every year. It's not just the cost of replacement that you have to worry about here. It's also the loss of know-how and the dread of hiring the worst person for the role (again, it increases your cost).
Luckily for you, AI-driven HCM systems, such as Ceridian's Dayforce HCM, can now accurately predict when high-value employees become a flight risk. By pouring through millions of data points already in the system, the Dayforce HCM identifies high-risk employees. It then alerts the manager that they need to act. It also sheds light on what drives voluntary departures on an organizational level. This helps the company address systemic issues that contribute to departures.
Again, IBM delivers the most concrete example of HR digital transformation in this space. Their HR systems can quickly identify the predominant causes of employee attrition. Things like staying too long in the same role, excessive overtime, or long commute time. Once it comes in on a high-risk employee, the system alerts the manager to take appropriate action.
Will your organization become a shining example of successful HR digital transformation?
The road to achieving full HR digital transformation is still long. That is true for many organizations, at least.
But pockets of innovation are already completely rewriting legacy HR processes. They are creating leaner solutions that boost employee experience and save valuable time and resources for the HR departments. This fundamental shift in how we approach HR is happening largely due to the need to maximize employee engagement in these challenging times.

If your organization is not yet AI-ready, there's still plenty you can do to keep your employees engaged and productive. At Ambassify, we've created a guide that will help you do just that.
Book a demo