Customer reviews are a business' bread and butter, especially if we're talking about a SaaS business. Why is that? It's because SaaS - and, to a lesser extent, other - offers are not picked up on a whim. They are meticulously scrutinized, researched online, and flipped more times than a burger patty before a decision is reached.

In fact, around 81% of business software buyers will first do online research and create a list of competitive products.

After that, they will read reviews, assess free trial possibilities, and, eventually (if at all) contact the service provider - 66% of them also note that online reviews significantly impact their decision to buy.

Why Are Online Reviews Important?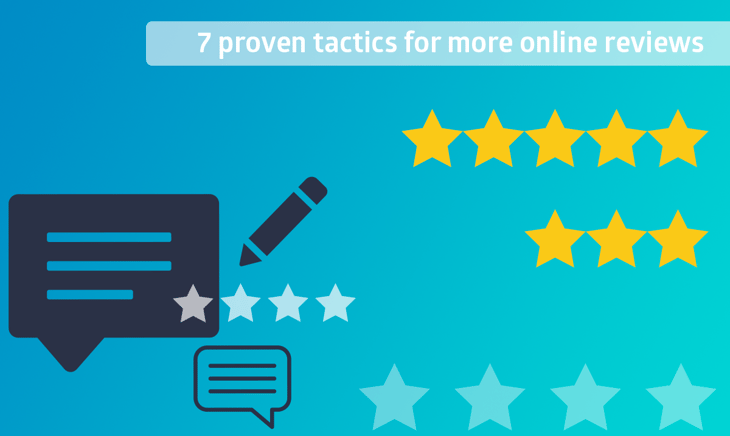 What interests us here are online reviews, seeing how they are, essentially, the second step in the buying processes and heavily impact the decision-making process. In addition to being a real morale booster for most companies (because who doesn't like being talked up online?), these reviews offer several other tangible benefits:
An increase in SEO

- Google Ads, linking-building, and constantly churning out great content are all great SEO strategies, but they can get really expensive, really fast. Collecting reviews costs just a fraction of that and,

according to MOZ

, they are a considerable ranking factor.




A boost in customer trust and brand image

- typing in a name of a business or a product into Google and coming out of that empty-handed never bodes well. When was the last time you bought something from a company that's practically invisible online? I'm guessing it was a long time ago. Positive

online customer reviews lend credibility

to your marketing messages, signaling that your brand is actually trustworthy.




Online reviews provide new sources of qualified website traffic

- getting qualified leads through your door can be a nightmare. However, everyone clicking through to your site from a review is already primed - they are informed, interested, and ripe for the picking. Lead generation percentages generated by online reviews differ from industry to industry, but, in nearly every industry, those percentages are substantial enough not to be ignored.




Reviews are a great source of ideas and feedback

- if your services have any kinks, your customers will be the first to tell you about them. Now, you can get their feedback the old-fashioned way, by conducting surveys and bothering them with questionnaires. However, they are more likely to mention the ways you could improve in reviews, both positive and negative. This knowledge will allow you to improve your service, or to pivot and offer what your customers need before the book closes on you.




Positive reviews impact conversions and sales

- earn just a handful of good reviews and your bottom line will thank you for it.

Research conducted by BigCommerce

suggests that the sharpest increases in conversion rates happen during the initial phases of the review-building process. After that, the biggest benefit lies in product insights, SEO, and lead generation.




7 Easy Ways To Collect Online Reviews for SaaS Companies
Although you can easily set up a review system on your own website, doing so would severely limit the usefulness of those reviews. I'm not saying it's not a good idea - it's great, as long as that is not your only source of online reviews. Which brings us to the first item on your to-do list:
Set up your company profile on relevant review sites - to get the maximum effect from online reviews (SEO boost, website traffic, and social proof), it's important that you go to places where your potential customers are looking for information.

If you're a SaaS business, you won't be looking into Yelp (restaurants) or TripAdvisors (travel and hospitality); you want to be on G2Crowd, Capterra, GetApp, Software Advice, and similar.

Don't ignore smaller and vertical-oriented review sites, either. Although they don't have the same volume as larger sites, they will still provide you with a steady trickle of traffic, and some of your best reviews might end up being on them.

Remember - when it comes to online reviews, being everywhere is not a bad thing.



Ask and you shall be given - before cooking up grandiose schemes to get reviews, do the sane (and often neglected) thing and just ask! You'd be surprised how many businesses fail to simply ask their customers to leave an online review.

You'd be even more surprised to know that 70% of said customers will be happy to oblige when asked, without any incentive whatsoever. You can approach your customers in a variety of ways:




*

Ask through email

- sending out a periodic email blast to your customer base is not being assertive, it's using your available resources. Preferably, you will segment your email list and reach out to people when they are most receptive - after a recent interaction, after a successful purchase, and so on.





*

Use your login page

- adding a CTA for reviews on your login page costs you nothing, but it's prime online real estate since most of your customers visit it at least weekly.





*

Ask on social media platforms

- Facebook, Twitter, and especially LinkedIn, are all great places to solicit customer reviews. People who follow you there have already expressed an interest in what you have to say, so they'll be more inclined to help you out.





*

Use an advocacy platform

- the great thing about advocacy platforms is the ability to gamify your asks. You don't have to full-on incentivize reviews - points, badges, appreciation can work just as well, if not better.




Another great thing about advocacy platforms is that they allow you to get your foot in the door before asking for anything.

Building a two-way relationship

with the participants of your advocacy program (sometimes for months) will ensure that the reviews you get from there are nothing short of excellent.





*

Make the most out of your client conferences

- user conferences are a great way to collect online reviews. You already have your biggest fans in front of you so it's just a question of giving them a little nudge. For that purpose, have your employees walk around with iPads and tablets and engage with users.



Always follow up (but with an agenda) - don't worry, that agenda is nothing sinister. It's just you (actually, your customer service rep) asking for a review.

Think of the following scenario: your CS spends countless hours helping your users. Most of those requests get successfully resolved. Instead of wasting this golden opportunity, have your people write a follow-up email or even pick up the phone (surprisingly, most customers would be pleasantly surprised with a follow-up phone call) and check if everything is still dandy.

The key thing to remember here is to make the ask as personal as possible. The time when businesses could put one over the customers is long gone.



In this particular example

, a restaurant waiter tells his customers up front that he gets a daily wage whenever the restaurant is reviewed and his name mentioned (the restaurant is closed during summer so this helps him pay his bills).

Of course, this might not be applicable in your case, but there are tons of ways you can attempt to personalize your outreach. Experiment until you find the right fit.



Organize giveaways and sweepstakes

- the best giveaways are those that make your customers feel included and a part of the team. Sure, rewards are enticing, but it's the feeling of participation that sticks with them.





Here at Ambassify, we helped one of our clients

(

SmartBox Group

) gather reviews and testimonials, as well as social media content, through a well-targeted Facebook campaign.

In short, customers were asked to post photos of their pets so that the community could vote for them and choose a new image for product packagings. Interestingly, what we found was that incentivizing asks doesn't necessarily work better.



An audience that's animated, interacted with, and feels appreciated will participate in something even if a tangible incentive is taken out of the equation. In fact, in some cases (as in this particular one), non-incentivized asks will result in a slightly higher participation rate than incentivized ones.





Find similar ways to engage your social media audience and incorporate a soft ask for reviews into it. As I mentioned, make them feel included and appreciated - it will work a lot better than simply offering incentives and hoping for the best.





Frequently post stellar reviews on your social media sites

- sharing really is caring and giving exposure to your reviewers is a great way to give them some love. In addition to that, keeping reviews visible can prompt other customers to leave one of their own.



Make things easier for yourself and simply schedule a few posts a week on Facebook and Twitter that feature your recent reviews. Also, make sure to advertise them on LinkedIn - it's the largest network of business professionals and their reviews are often more rounded and complete.



Make your review process super easy

- if you make it complicated, you will lose half of the people otherwise willing to leave a review. When creating your own in-house process, keep it simple: use a rating system and ask only for essential information.



Also, always have customers just one click away from review sites. Do that by including a button that will lead them to Capterra or G2Crowd in emails and on your login page and make sure that the whole process is mobile-friendly.



Incentivize employees to solicit reviews - your employees are often in the best position to solicit reviews from customers, especially front-line employees. However, most of the time they don't feel like doing that extra push to get engage with customers on a more meaningful level. Consider running employee competitions or rewarding employees that have an 'above and beyond' attitude.



Committing To the Online Review Process
After that initial push to get online reviews, most businesses fall out of step and neglect their review initiatives, thinking that they will gather a momentum of their own. That rarely happens. Actually, it's up to you to keep that momentum going. Most potential customers find that reviews older than three months are no longer relevant.

Another common pitfall is thinking that all your reviews have to be stellar. They don't. In fact, micro-managing the review process can make you look less trustworthy.

A handful of negative online reviews will make your business look like the genuine article - people have a natural aversion to perfect things because, let's face it, rarely anything in real life is perfect. Also, negative reviews give your customer service a chance to shine.

Word of caution - whatever you do, don't be a jackass about negative reviews. Tell your CS crew to leave their attitudes at the door. The customer is always right, especially in a place where thousands of potential buyers can see your mutual interaction.
For example, this guy traveled 530 miles to punch a woman that left a bad review on his Taobao online store. Needless to say, his online entrepreneurship days are over and this will land him in a prison cell, and rightfully so.
Have a plan for negative reviews and ensure that you always go above and beyond what's needed to rectify a perceived slight or a mistake. Answering all reviews is highly recommended, but taking the time to turn a dissatisfied customer into a raving fan? You can't put a price tag on that.

Over to you.
What was the last review you left online and what prompted you to do so? Think about it and let me know in the comments section. Also, here's an extra tip - whatever got you to leave a review is often worth looking into because it will work on a percentage of your customers, too.

Other blog posts that might interest you: