Trust sells. No matter the industry you work in, if potential customers don't trust your brand, they will not buy anything you're selling
Period.
Throw all the money you want into ads - it won't make one iota of difference. Or, if it does, it will be at such great cost that you will be boarding up the shop windows in a matter of months. Let's face it - traditional marketing tactics are yielding very poor results lately.

That leaves us with a conundrum. In a world where everyone is increasingly wary and skeptical (and able to check absolutely everything online), how do you get people to lower their shields and trust you?

The answer?

By working hard on turning your existing customers into passionate brand advocates!

You see, people don't trust companies but they do trust other people - their friends, family, or even complete strangers. Actually, 88% of people trust online reviews as much as they trust personal recommendations.

Advocacy marketing is where business battles are fought and won (or lost). This doesn't only apply to B2C businesses.

If anything, it applies even more to B2B. In today's digital world, word of mouth happens online and POSITIVE word of mouth is continuously provided by satisfied customers who you've managed to turn into brand advocates.
Brand advocates are a low-cost-high-gain asset and if you don't have an organized approach to them, you're bleeding money. However, before you can activate and leverage them, you first have to find them.
This step by step guide will help you identify your brand advocates by answering the following questions:
Why it's' always important to segment brand advocates

Where to look for them (and find them)

How to gauge their value with a single question


3 STEPS TO IDENTIFYING YOUR BRAND ADVOCATES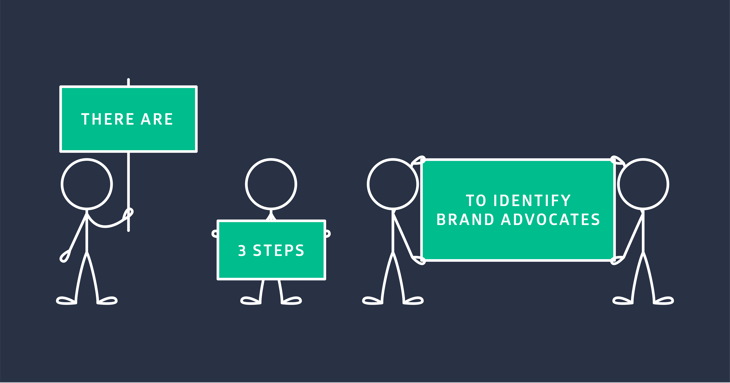 Before you can activate your brand ambassadors, there are three distinct steps you need to go through:
Segmentation and sorting

Discovering who and where they are

Discerning how valuable they are
Let's talk about segmentation for a moment.
To accurately leverage your brand advocates, it's important to know in which boxes you're going to put them and you want to know this beforehand. That way, you will be able to mobilize the right subset of advocates you need at any given time at a moment's notice.


Segmenting Your Brand Advocates
The first segmentation allows you to sort out potential brand advocates in terms of their relationship to your business.
Customers - since customers are not affiliated with you in any way other than being customers, they are considered to be the most important and the most credible brand advocates. In subsequent segmentation rounds they can be divided into subsets (VIP customers with a high yearly spend, recurring customers likely participate in online conversations, low spending customers, and so on) for an even more targeted approach.


Employees - creating a solid base of brand advocates among your employees will give you a distinct advantage, especially in the beginning of your brand advocacy efforts since their above-average participation will pull in others.


Business partners - having your partners in your corner will help you clinch other industry deals and signals to customers that you're not a pariah in your own community.


Industry experts and influencers - if you're a B2B company, remember that

your prospects read three pieces of content

in addition to yours before making a purchasing decision. Having an industry influencer in your corner may tip the scales in your advantage.
You're going to leverage each of these advocates differently.
For example, getting your employees on board can amplify your social media reach by over 2,000%. The best thing is, you don't have to push (or pull) them too hard - they already have a vested interest in your business.
On a different note, not everyone is willing to endorse your company through a testimonial or to participate in the content creation process. Additional segmentation will let you know which brand advocate can be leveraged for what purpose.
Brand Activists - your brand aligns with them perfectly and they have no problem incorporating advocacy in their day-to-day life. Brand activists either simply love your brand or depend on your services/products and want to see you succeed and that's why they are usually very active.


Marketing Partners - you will recognize them because they are not shy when it comes to telling you exactly what needs to be improved - or left alone, for that matter. These advocates are an asset you can use when you're considering product/service feature improvements or launching something brand new.


Brand Informants - advocates who have been customers for an extended period of time and sometimes know even more than your support team. They can greatly complement your internal support by answering customer questions on social media sites.


Reputation Managers - advocates most likely to form the first line of defense when your brand is under attack.


WHERE TO LOOK FOR YOUR BRAND ADVOCATES
Brand advocates (or, more correctly, potential brand advocates) are all around you. They interact with you and buy from you and are much more likely to pop up in a time of crisis, either to defend your brand or to offer help and words of encouragement.
You see, there are no proverbial rocks you have to turn to find them. You just need to stay on top of your business and know it like the back of your hand.
Pretty easy, right?
Here's what's going to make it even easier - your own data. That's right; data you collect on an everyday basis will be of great help in identifying your brand advocates.

Social Media Sites
The easiest way to identify potential brand advocates is by keeping an ear on your social media channels.
The more you're active on, the better because it means that your reach is bigger, which increases your chances of finding the right people.
What are the signals you're looking for?
Mentions

Likes

Shares

Retweets

Engagement

Questions

Reviews

Comments

All of these actions (and more, depending on the platform) will let you know who are the people who are interacting with you right now.
Although it might pay off to reach out to everybody, focus your effort toward the ones who are consistent in their actions or invest additional time in them.
For example, not all shares on Facebook are equal - someone might simply share your post while someone else takes the time to write an introduction or explain why they are sharing it. The second group is more involved and, by extension, easier to convert into brand advocates.


Customer Relationship Management Systems
Consult your sales team to find out how many repeat customers you have.
If someone has bought your product more than three times or has been a long-time user of your services, it will generally pay off to reach out to them. There are two reasons for that:
They are satisfied, otherwise, they wouldn't be coming back

They are already familiar with your brand and more likely to recommend it
Also, keep track of complaints.
Every once in awhile, a complaint is handled so well that the customer reaches out to thank you (or your CS representative). Jump on this opportunity - a well-handled complaint can easily turn a disgruntled customer into brand's biggest advocate.

Review Websites
Whatever the industry you're in, there are review sites out there focusing on it. If it's travel then we're talking about TripAdvisor and Trivago; if it's technology and apps, it's G2Crowd and Capterra. You see, there's no escaping the online word of mouth, even if you're not actively encouraging it.
Look around to see if there are any reviews online about your brand. It's a good idea to reach out to everybody who's taken the time to write one (even if it's just on your Facebook page) but invest a bit more time in building a relationship with people who:
Leave a stellar review

Leave a negative review
The first group is primed for brand advocacy and has the greatest potential. The second group, however, might also turn into a gold mine.
If you can address their issues properly and resolve them, you will turn brand detractors into brand ambassadors. Even if you're unsuccessful, you will at least show other potential customers that you care enough to engage and that you're willing to make an effort.
There's a whole bunch of social media monitoring tools out there that you can use to streamline this entire discovery process.
Consult BuildFire's list of social media monitoring tools for more information on what you can use.


FIND OUT THEIR NET PROMOTER SCORE (NPS)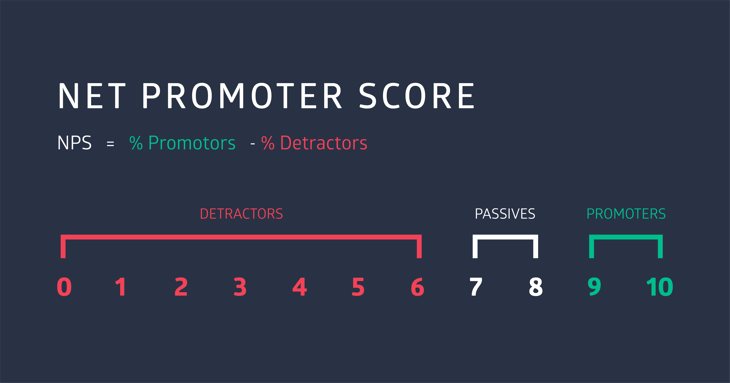 Net Promoter Score is a metric that measures loyalty of your customers. It's calculated from a single question, which is why it's usually easy to find out.
The question?
How likely is it that you would recommend Company X [or Product X / Service X] to a friend or a colleague?
Simple and straightforward, right? That's why it works. This short survey is not intrusive and it can be completed in a second. It can also be distributed through a wide variety of channels - over social media, email, via phone, and so on.
Anyone who answers with a 9 or a 10 is your potential brand advocate and you should focus all your attention on building a quality working relationship with them.
Make sure to sort them into their respective segments before starting the process of relationship-building and onboarding because there will be differences in approach between different segments.


IDENTIFYING BRAND ADVOCATES IS EASY WHEN YOU KNOW WHERE TO LOOK
That's right - your brand advocates are all around you, you just have to start paying attention and nurturing them so that you can tap into their collective strength.
When we're on the subject of nurturing, make sure to check back soon because we'll be talking about relationship-building and onboarding, the next step in the advocacy cycle.
In the meantime, drop down to the comments section to leave feedback, ask a question, or simply say hi.

Other blog posts that might interest you: