3 Inspiring Brand Advocacy Campaigns You Can Learn from Today
Brand advocacy actually works, and here are 3 successful campaigns that prove just how much. Whether you're a consumer goods manufacturer, a high-tech giant, or a clothing brand, there'll always be a group of trusted people who love your brand and want you to grow. Get inspired by these campaigns on how exactly you can turn your most trusted advocates into a crucial part of your growth and a precious marketing resource.
What do you think is the most underutilized marketing strategy in the B2B ─ maybe even B2C ─ world?
Paid ads? Affiliate? Email?

None of those, not for a while at least. One look at your inbox, and you'll realize that the world is full of ignored ads and unopened emails.

But there's still one thing I haven't mentioned...you guessed it ─ advocacy marketing!

Or brand advocacy. Or word-of-mouth marketing. No matter what you want to call it, advocacy marketing works, and the 3 awesome brand advocacy campaigns we'll talk about in here are all the proof you need.
Did you know that 90% of consumers trust WoM more than any other type of marketing?

The answer is probably yes because if you're reading this, it means you're looking for inspiration to implement advocacy in your organization. Well, you're in the right place.
Let's take a look at how easily you can leverage your best people and their experience with your brand to grow awareness, drive social media engagement, and increase your bottom line.
Harry's razor blades busted a global duopoly by focusing on values & brand Advocacy.
For decades, Gillette and Schick-Wilkinson were the two major players fighting it out in the $11 billion razor blade market.
That is, until Harry's, an innovative New York-based razor blade company, entered the fray in 2013.
Although Harry's is not the largest player on the market, it's how they entered the game that earns them a spot on Ambassify's best-brand-advocacy-campaigns list. With barely a marketing budget to speak of and a handful of employees, they managed to collect 100,000 email addresses during their pre-launch campaign just by sifting through their employees' networks and connections.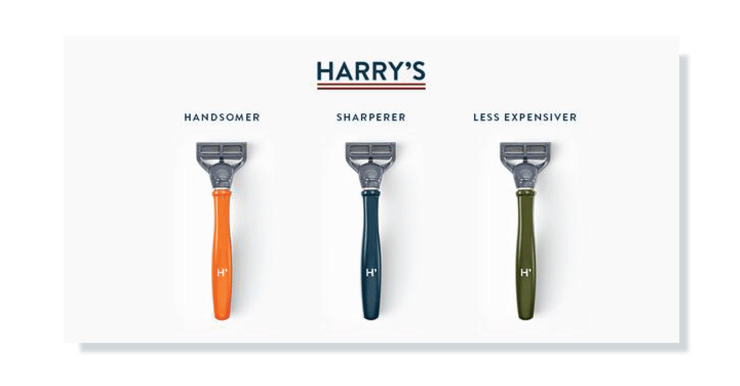 Here are the 2 miracle steps that did it for Harry's:


✔Amazing storytelling. Harry's story is the story of many. You got your average Joe who spends a lot of money on razor blades, even knowing that there must be a better, cheaper way to shave. They connected with this archetype through their web, email, and ads copy, turning casual readers into instantly fired-up superfans.
If they wanted to enthrall their potential customers with a down-to-earth and relatable story, they definitely succeeded.
✔ Captivating referral program. We gotta give it to them; this program is what takes the cake! During pre-launch, Harry's email subscriptions (and sales) skyrocketed thanks to their innovative referral program. Five referrals would get you a free shaving cream, but refer to 50 people, and you'd end up with a year of Harry's blades as a reward.


Harry's owes its explosive growth to smart copy, thoughtful alignment, and dedicated advocates. And still, they did all of this without having a codified advocacy program, at least at first. They just counted on the fact that their story would captivate the audience and gain subscribers and fans, which shows considerable commitment to building strong, genuine relationships with customers and a great product.
Apple's iPhone X advocacy campaign results in tons of user-generated content and massive social reach.
Unlike Harry's, Apple is an industry giant and a market share leader. Reaching and winning over new customers is surely not one of Apple's problems. They have eyes on them at every turn, and they will know it.
But, Apple has a couple of other problems they consistently (and successfully, may I add) address through brand advocacy marketing. The goal? To create hype for their new products and to humanize their brand.
An example, you ask? The best one ever is probably Apple's iPhone X campaign.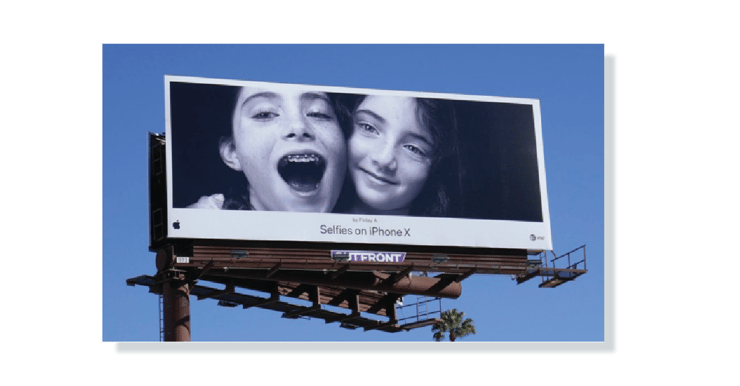 They featured actual user photos on billboards worldwide to show off the product's impressive selfie-taking capabilities, thus easily and smartly tapping into their existing and most likely trusted user base.

The campaign was a massive social media success ─ which was to be expected ─ after which Apple built a second campaign around it. The Three Minutes campaign would teach people how to use their iPhone X to take the best possible photos. After that, it was a matter of time until hoards of fans started posting their pictures on their socials using branded #hashtags that drove even more awareness to Apple.

If you think about it for a minute, you'll see that this advocacy campaign was a stroke of genius for two reasons:



✔ Apple became human ─ just like you or me. By featuring real-life iPhone users and their content, Apple managed to get rid of their big corporate persona. And since we know that people trust people and not companies, we also know that was the right move for Apple.


✔ At a fraction of the cost ─ look at how much free UGC Apple got by tapping into something very human, like vanity? And, once again, there was no actual reward for posting photos using Apple hashtags, just pure love for the brand. But the result is a pretty impressive one: Apple increased its social reach and its bottom line.




The lessons here? Find out what people love doing and encourage them to keep doing it. If your advocacy campaigns are based on that, you don't have to spend a lot of money to have great results.
Adidas makes brand advocacy central to their sustainable growth by turning every advocate into a VIP
One of the biggest drivers of customer advocacy is giving your advocates a unique customer journey.
What does that mean, you ask? Well, an exceptional customer journey is when you make your customer's purchasing experience so impressive that they cannot help themselves but share it with others.
Adidas is clearly fully aware of this, which is why they roll out the red carpet for every customer that signs up for their advocacy program. And being an advocate for Adidas means you get treated like royalty.
Adidas knows that when their customers feel like VIPs, they'll go out of their way to promote the brand. The exclusive rewards are there to sweeten the pot and make difficult 'asks' (such as those for product reviews or UGC) more palatable.
This is an excellent brand advocacy example because it demonstrates how a brand's commitment to its customers' experience can drive your whole business strategy. And that's what did it for Adidas because the company made customer advocacy central to their growth:


"We firmly believe that advocacy will create sustained growth for our brands, underpinned by the fact that brand advocates on average buy more than non-advocates. In addition, a large part of our consumers relies on referrals by friends or family when making purchasing decisions."Adidas Annual Report
Can you make advocacy work for you?
Yes.
And don't listen to people telling you it's too complicated. Or too expensive. Or not right for your business. These inspiring advocacy campaigns demonstrate just how effective advocacy can be for your company.


Referrals, UGC, and an exclusive reward program for your advocates can become your next successful marketing tools, drive more attention to your brand, and generate engagement and meaningful connections with your most trusted people, customers, and employees.
Whether you want to reward your fans with an eye-catching referral program, put your advocates' content on display to broadcast your brand, or if you want to show how much you value that trust by creating exclusive advocacy benefits, that's up to you.
What you have to bear in mind is that it doesn't matter if you're a consumer goods manufacturer, a high-tech giant, or a clothing brand; we can guarantee that there's a group of trusted people out there, customers and employees, who want you to grow. And they're willing and eager to work with you to help you succeed.
Ambassify can help you identify those people and build genuine relationships with them so you end up with a community that you can always count on.
Ready to turn your customers into advocates? Schedule Your Ambassify Demo