In an online-first marketplace, positive online reviews are a brand's bread and butter. As potential customers, we trust them more than anything an organisation puts out, and we check them almost obsessively before all major (and even minor) purchases.
Don't believe me?
Scroll through your Internet search history. If you don't find a review website somewhere in there in these last seven days, feel free to hit that X button at the top right corner of your screen (I am THAT confident that you'll find one).
Done?
It might be that restaurant's Yelp page from a few nights ago…
… or the Trivago page that got you to finally bite the bullet and book that Playa del Carmen resort & spa…
… or that G2 review of that SaaS accounting solution your book-keeper is considering.
The point is — it's going to be there because checking customer reviews is so wired into our system that we hardly think about it anymore. It's just something that's done.
Let's explore why consumers do it, and how to ask your own customers for positive online reviews so that you too can benefit from their selling power.
How to ask for customer reviews:
Reach out after an action
Leave a positive review first
Host a customer-centric event
Make your website and content work for you
Double Your Positive Customer Reviews by Tapping Into Your Brand Advocates
According to research, around 97% of consumers use online reviews sites to learn more about products and services in their local area, and 67% of B2B buyers rank online reviews from their peers as the #1 influence during the buying process.
And these online reviews can have a big influence on your bottom line, regardless of your industry, because: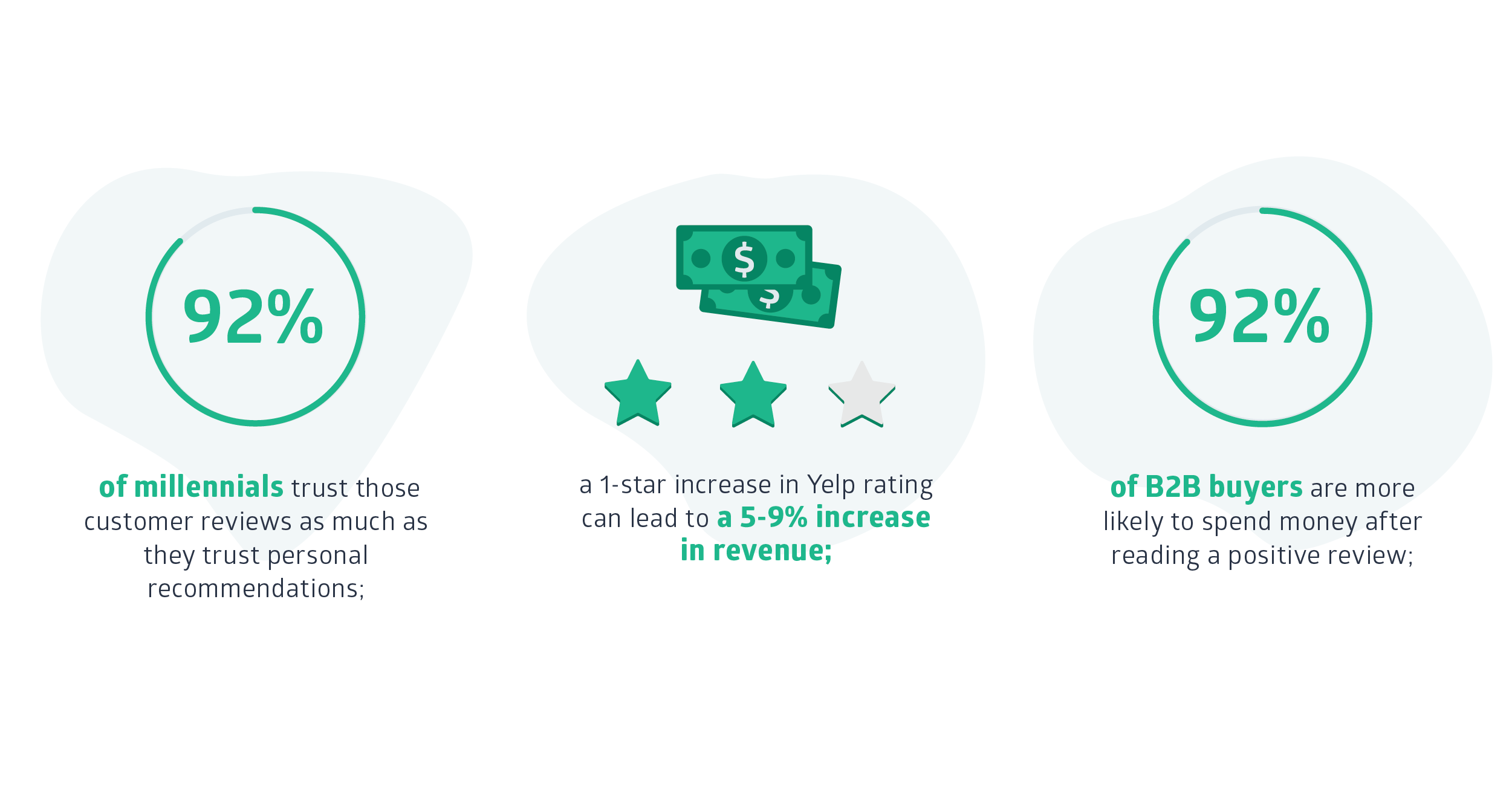 These percentages don't lie — you ignore online customer reviews at your own peril.
Luckily, customers are mostly more than happy to help out — 67% of them will leave a review when prompted about it.
But, if you want to really stack the odds in your favour — and double the number of the reviews you get in the process — reach out to your brand advocates. Brand advocates are already invested in your brand, and they're 50% more likely to create online content and share it with their social networks. Add to that the fact that you can easily incentivise small asks through your advocacy platform, and you'll soon be raking in those glowing customer reviews!
Want to learn how to create your own army of brand evangelists? Ambassify's Ultimate Guide to Customer Advocacy shares step-by-steps processes that will help you identify, activate, and deploy your most effective sales force — your satisfied customers.
5 Ways to Ask for Customer Reviews
Whether you're dealing with your advocates or regular customers (the ones who have not signed up for your advocacy program), using any one of these five ways to grow your online customer reviews will get you the results you're looking for.
However, keep in mind that people generally respond better to 'asks' from those companies and individuals that first invest a bit of time into building a relationship with them. Before you barge into someone's inbox or phone with a request, make sure that they either know and like you, or that you delivered an out-of-this-world purchasing experience and post-purchase service.
1- Reach Out After a Qualified Action (Purchase, Referral, or Similar)
To maximise your number of positive online reviews, make sure that you ask for them at the right moment in time.
For example, a support person asking a customer to leave a Google review after spending three days on the phone with them solving a minor issue is not the right time. An irate customer is likely to leave a scathing review already — reminding them about it will just make it happen faster.
So what's the right time to ask for a customer review?
The right time to ask for reviews is right after a customer has completed an action or a milestone that is likely to leave them feeling good. Here are a few examples:
After a repeat purchase (good odds that it's a satisfied customer),
After reaching a usage milestone (excellent for SaaS solutions and apps),

When they refer someone to you,

After tagging your brand on social media,

After attending a brand event or conference.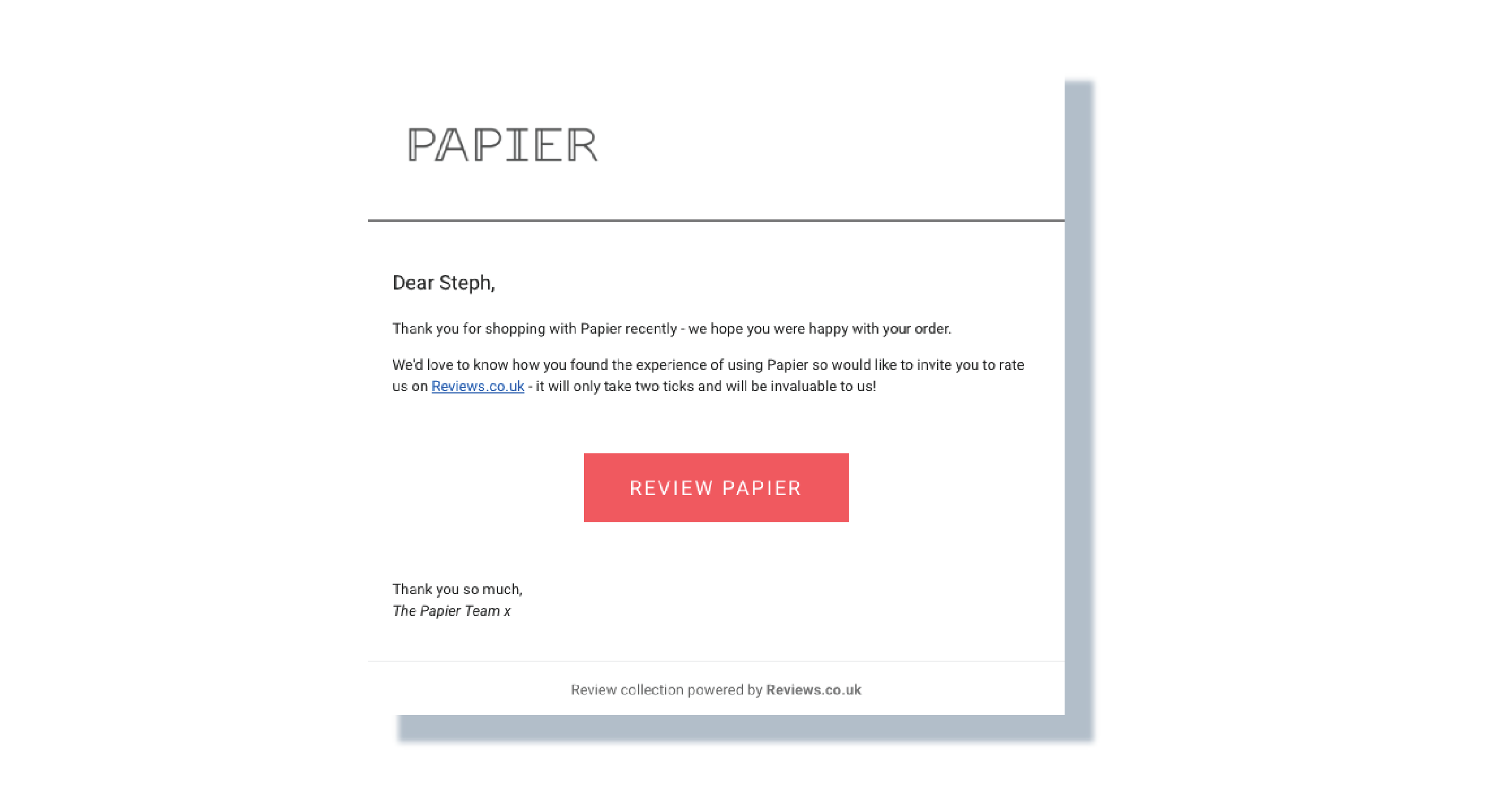 Think about how customers use your products/services and try to figure out the best time to reach out to them based on their personal journey and experiences. If you know that most of your customers are delighted right after delivery, send an email that hits their inbox on the delivery date. If they need more time to figure things out (for example, if you're selling a language-learning app subscription), make sure to hold off on asking for a review until they've had a chance to see some results.
2- Leave a Positive Review First
In some cases, fishing for a customer review via email or in person might not be possible — maybe it's a big sale where a review 'ask' can seem inappropriate, or you're just not comfortable enough to outright drop the question.
When that happens, get the ball rolling by being the first one to say something nice about a person or an organisation.
This tactic isn't applicable in every industry but it usually works like a charm in two distinct cases: a) you're in B2B, and b) you're in B2C where it takes time to close a deal (real estate, car dealerships, and similar).
LinkedIn is the perfect platform for this. After working with someone for a while, connect with them on LinkedIn and leave a recommendation or an endorsement. They will appreciate it (because it builds up their personal profile and brand), and will likely reach out to thank you. When they do, casually mention that you would appreciate it if they could take the time to leave a review on an online review site of your choosing.
Here's an example of how the exchange might go:
Client: Thanks for connecting with me on LinkedIn, and for your endorsements!
You: Don't mention it! It was a pleasure working with you, and I was really blown away by those responsive website examples you've shown me. If you're up for it, I would appreciate it if you could review our SaaS solution on Capterra - these reviews really help us grow our business, and it would mean a lot to the entire crew here at [name].
That's it, there's no need to overthink it. If you're in the position to do so, leave a few of these every month and you'll get at least one review out of it. Just remember to reach out to people you have a relationship with — reaching out to complete strangers won't get you the results you're looking for.
3- Share Your Existing Reviews
A glowing customer review is a compliment to your business, and you should feel good about it. In fact, you should feel so good that you unabashedly share it with the world.
After you collect a few reviews that you like, find a way to work them into your email sequence, newsletter, social channels, and website. Give people a taste of what others are saying about your business to inspire them to open about their own customer experience.
This review curation and sharing accomplishes two things:
it introduces the option to your audience (be that on website, email, or social), and lets them know that you appreciate reviews (and that they actually help your business), and;

it gives them a couple of ideas about what to include in their own reviews (when sharing reviews, pick the ones that you want others to emulate for whatever reason).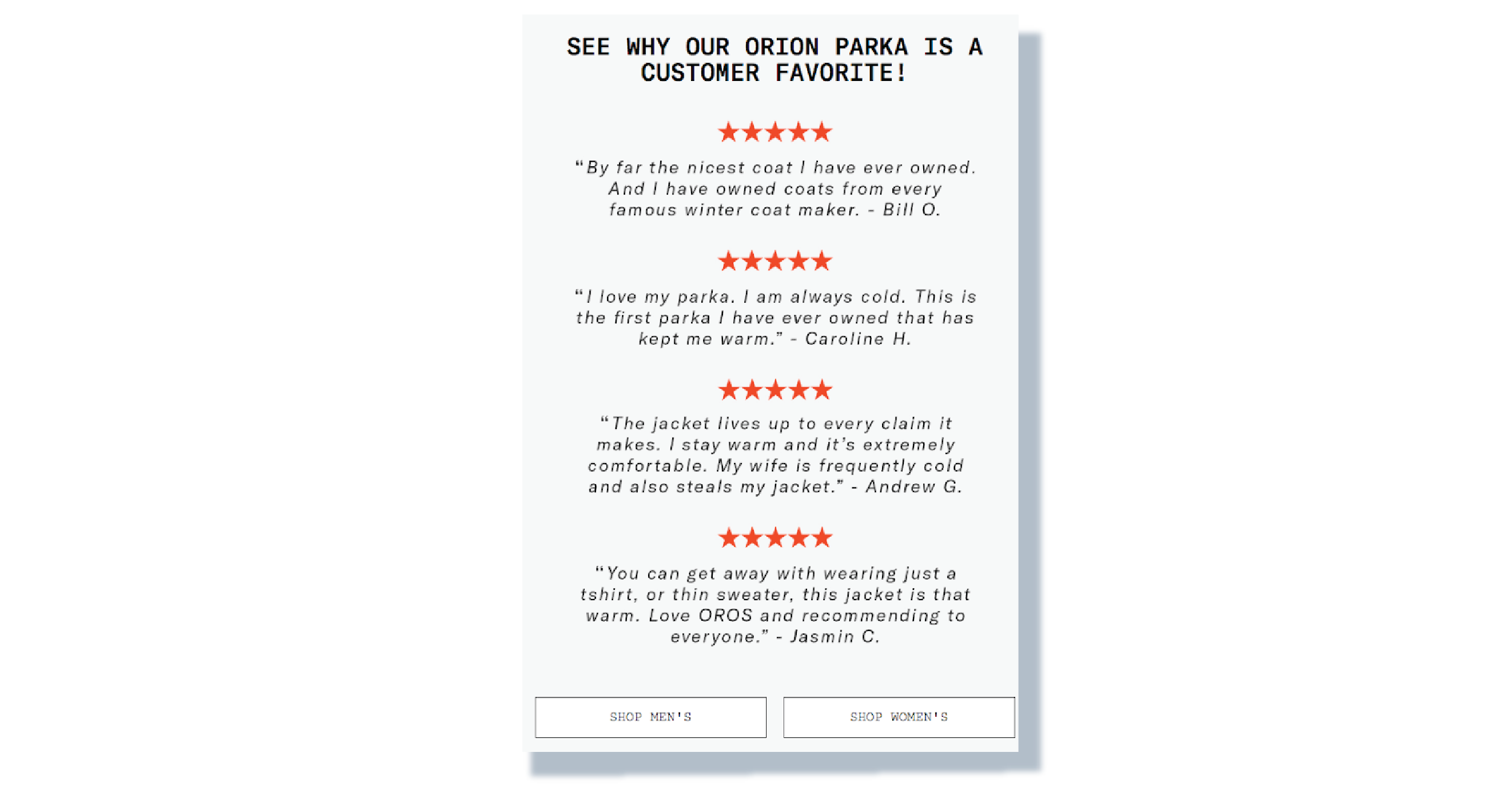 Social proof is a powerful beast — when your customers can self-identify with reviewers (say, on Facebook), they're more likely to leave a similar review. Sharing and promoting positive customer reviews on your social channels will ensure they keep on trickling in.
REMEMBER: A lot of review websites allow you to mark a review as helpful. Do this often for your best reviews as it's a faint boosting signal to the algorithm gods, and it might help move those reviews further up the site where they can drown out mediocre and negative reviews.
4- Host a Customer-Centric Event
Hosting a user/customer conference gives you a perfect excuse to rub elbows with your best customers, work on relationships, and create repeat business opportunities.
But these events are also a good way to build up your portfolio of positive online customer reviews. You can tackle this in three different ways:
ask for a review in the invite - once you reach out with an invitation, include a link to a review site and people to tell the world why they love working with you. Since you're sending this to a curated list (and you're leading with value), you'll definitely grab a few stellar reviews.
ask for reviews during the event - arm a few interns or junior levels with tablets, and get them to work! They can mingle with your customers during event breaks (or the cocktail hour), collecting reviews on the spot. Make sure they don't harangue people and make this as frictionless as possible by having example customer reviews on hand for inspiration. Guests that express a desire to leave a longer review (for example, on G2 or Capterra) can be contacted at a later date and guided through the process.
ask after the event - as you're sending out those 'thank you for attending' emails, slip in a bit of copy that invites people to share their event experiences and photos on review sites. If you've delivered on the event promise, your customers will be happy to reciprocate (so make sure you do deliver).
Don't forget that your marketing team could (and should) make the most out of any event you organise — get the real bang for your buck if you're already pulling all the stops. Use it to demonstrate new products and services, collect voice-of-customer data, get some surveying done, or collect customer testimonials (in addition to reviews).
5- Make Your Website & Content Work for You
While asking for customer reviews is the surest way of getting them with any consistency, there's something to be said about letting them come to you.
If you're 100% confident in your product/service and your post-purchase support, meet your customers where they are — on your website, on your social media pages, in your email newsletter, or anywhere else. To do that, simply optimise your content and UX so that the review options are available and noticeable:
Add review site badges to your website - use review widgets (G2, Google, Yelp, and others) to direct your website visitors to those websites.
Mention your reviews in a callout box in your blog posts - whenever it makes sense (and doesn't interrupt the flow), feature a small callout box in your posts so that visitors can easily get to review sites directly from your most popular content.

Highlight review site links in your email PS - a small post-scriptum message can be added to your email signature to prompt subscribers to leave a customer review.

Feature customer reviews in your social media cover image - occasionally, pluck a great review and create a graphic that you can use as your Facebook cover or add to your Instagram and Pinterest accounts.

Focus On Your Prime Review Sites (& Leverage Your Best Customers)
The last piece of advice I want to leave you with is this:
Don't overwhelm your advocates with requests.
Winnow down and focus only on your most important review sites. Take into account the websites that your prospects trust and check, and build a strong profile on those first — Yelp if you're a restaurant, Trivago if you're renting accommodation, or G2 or Capterra if you're in the B2B industry. Also, don't forget Google My Business if you're a local business, or Better Business Bureau if you're located in North America.
And of course, if you're an e-commerce business, double down on reviews collection on your own platform— getting 50+ reviews on your product could mean a healthy 4.6% increase in conversion rates.
Remember, a fraction of your customer advocates will be willing to jump through hoops for your brand… but not all of them. To learn how to cultivate that type of brand evangelism consistently, download Ambassify's guide to customer advocacy right now and get to work on creating an army of your best salespeople.

Pssst: For more great content, like us on Facebook. And, if you're a happy Ambassify customer, share your experiences on Capterra to help us grow and serve more satisfied customers!