It's been a week since Facebook's CEO Mark Zuckerberg announced major changes to the platform's newsfeed algorithm, and the sky hasn't fallen on our heads - yet.

In all seriousness, this is a major decision on the side of the platform, one that will affect how tens of thousands of businesses approach Facebook. Most social media marketers agree that it's the end of free and unadulterated organic reach that businesses have been enjoying up until now. That low-hanging fruit will now be reserved for friends and truly meaningful posts.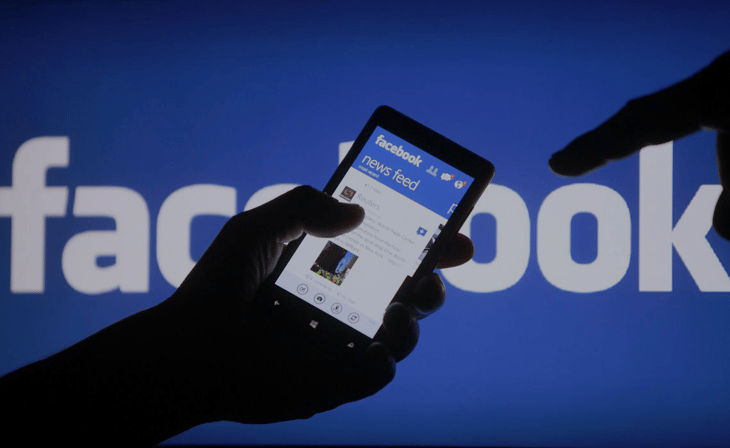 However, what these Facebook doomsday prophets are leaving out here is important - businesses employing a certain valuable marketing tactic will reap a lot of benefits going forward. Of course, I'm talking about brand advocacy.



Why Update the Newsfeed Algo Now?
What prompted Facebook to make this, seemingly user-centric, decision? Several factors are in play here, such as:
Growing dissatisfaction of users over the number of branded posts they see.

Accusations that Facebook is flooded with fake news.

The tendency of newsfeed to show items that fit the user's established opinions.




The fact that we've all been reporting uninteresting/irrelevant/misleading and inaccurate posts at an alarmingly increasing pace in the last few years did catch Facebook's attention.


The amount of time we spend on the platform and the number of posts we engage with is also in decline, which had Zuckerberg worried. His personal announcement of the changes would have you believe that the company is doing it to promote the 'well-being' of their users: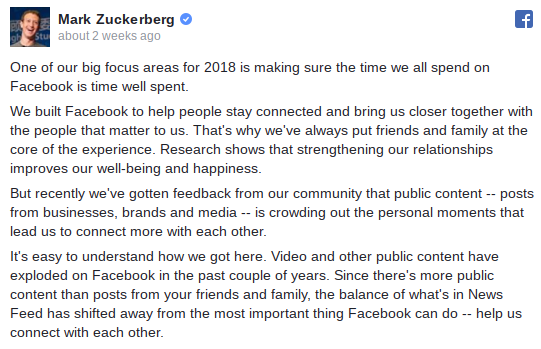 Although this certainly played a part, it's by no means the cornerstone of this decision. Facebook is playing the long game, and losing engagement temporarily, while securing the continued growth of the platform is a no-brainer for the company.


Also, while Facebook will see an overall drop in engagement, it's unlikely that they will be financially punished for it. Denied of their organic reach, most companies will opt to sponsor their content, lining Facebook's pockets at a time when ad impression prices are at an all-time high.
Who Will Benefit From the New Facebook Algorithm Update?
First, let's take a look at what this algorithm change accomplishes:
It prioritizes content from friends and close connections.

It pushes up content from seemingly trusted (high engagement) sources.

Penalizes spammy posts

that beg for interactions ('Please like, share, and comment!).

A sharp decline in organic reach for posts from businesses and brands.
This scenario opens up a bunch of opportunities for companies that have an advocacy strategy in place. Advocacy relies on regular Joe's and Jane's - you know, people like you and me, who have families, friends, and a circle of social media contacts.


In the past, a post in which I'm raving about how great my bookkeeping app is (and it really is) would get drowned in the sea of publisher posts. Heck, I would be lucky if one person saw it because, most of the time, it wouldn't even appear in the newsfeed for a lot of my friends.


For brands, the choice here is simple - investing in advocacy or investing in Facebook ads. On one side, you have the increase in price per impression combined with the fact that people usually skip Facebook ads. On the other, you have an opportunity to build solid relationships with your customer base for a fraction of those ad costs. Which are you going to choose


Advocate posts are getting an opportunity to shine now because:


More people will see and notice them in the new, uncluttered newsfeed.

Interactions and engagement will go up.

Brands can leverage them to build truly meaningful connections and increase customer trust.

The important thing right now is to kick your advocacy efforts into overdrive - everything from working on engagement and forging two-way relationships to content production. Also, don't try to replace the crappy content that was dropped from the newsfeed - no sales pages, no pitches, no PR fluff.


Focus on creating fun, useful, and human content, such as tutorial videos, employee spotlights, a day in the life of your CS rep, and so on. Be colorful, buzz-worthy, and quirky if you have to be, just don't be boring.



Did Facebook Catch You With Your Pants Down?
For most businesses, this news will come as a shock and it's going to be difficult to adapt to it, especially if they relied on organic Facebook reach and were giving advocacy a wide berth for some reason. If you're one of those businesses, you can expect the following:
A big drop in overall reach

A considerable increase in ad spend (if you attempt to compensate)

Decreased video watch time

Fewer leads and referrals as a consequence
To outplay Facebook, you will need to build a strong base of customer advocates whose stories will now reach people in their social circles more easily. Not to worry - brand advocacy isn't as hard as you might think, especially when you have the right tools.
Check out these three blog posts that'll get you started with advocate marketing: