Product Updates: New features for January 2021
Read below for Ambassify's new feature updates for the month of January!
January: for a lot of us, it's a month that feels like it never ends for some inexplicable reason. The holidays are over, and we commit to losing the extra weight we gained from several weeks of being part human/part chocolate cake/part alcoholic. Though didn't we promise ourselves the same thing last January?
Dedication and focus are not lacking in our dev team, however, who have been busy launching new features and making some essential improvements to the Ambassify platform. Here are some highlights.
Spotlight campaign visualization

Want to draw even more attention to an important campaign in your community? Now you can! We've added a small improvement to highlight campaigns that are in the spotlight and instead of making them bigger than the regular campaigns, we've added a label on them, so they stand out more.
Extra bulk edit options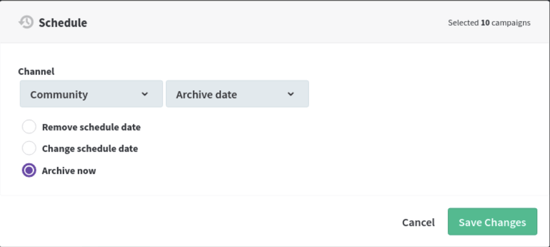 Last month, we rolled out a new improvement that would enable you to edit your campaigns in bulk, and we have now expanded on the functionality. You can now choose to publish, finish, or archive in bulk immediately by first selecting your action (publish date, finish date or archive date) in the dropdown menu, and then selecting the 3rd radio button "Publish|Finish|Archive now".
Hiding points for members
At the request of some customers who asked us to add this to our roadmap, we've added an option that will hide all the references to points for your members. The advantage of this is that members will still receive points for all their interactions without knowing it.
You can find this setting under Settings > Community > Rewards.
Extended restrictions on domains for members' email addresses

For customers that have the "E-mail restrictions" function as part of their package, you will now also be able to specify a set of domains that are NOT allowed instead of the other way around. This helps with overall data hygiene and ensuring that your members use domains that are compliant with your needs.
That's all of the updates for now, and as always if you have a suggestion for a new feature, or would love to see a specific improvement, then feel free to get in touch!