December: A month where most of us will say goodbye to our diets, assuring ourselves we'll behave in January whilst consuming yet another piece of chocolate, and losing hours of our lives untangling sets of rope lights to put on the tree/around the house. Not our Dev team however, who treat rope lights like lines of code. Everything is linear, neat, and used sparingly.
They have also been busy launching new features and making some essential improvements to the Ambassify platform. Here's some highlights:
Real-time RSS Feed Comments

We've added an RSS feed tracking all comments posted in your community. This allows you to keep on top of your community activity using your favorite RSS reader or other integrations such as Slack.
You can find all available feeds in your community settings under the "Campaign > Feeds" menu.
---
Modify campaigns in bulk

You can now perform some operations on multiple campaigns at once by selecting the campaigns you would like to modify from the campaign overview.
To edit multiple campaigns, first make your selection on the overview. Next you click the "Edit Selected" button that appeared above the table and you choose the bulk operation you would like to perform
---
Load more import posts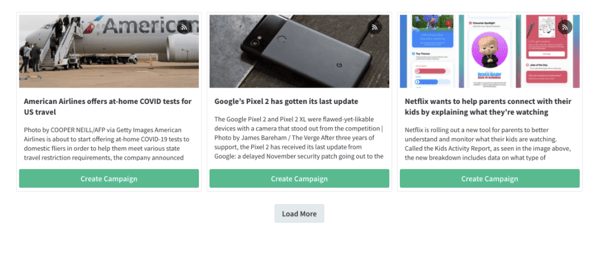 Before, the import page only showed the 10 last posts per source. We now implemented a "
Load More"
button at the bottom of the page to load additional older posts. This will make it possible to create campaigns based on older social posts and revive some of your excellent content.
---
2020: A lot done, and a lot more exciting things to come!
If you're an Ambassify customer, you'll have noticed a lot of exciting new features and improvements being made throughout the year. We've been focusing even harder on customer feedback to make improvements and influence how we develop new features, and this has been a very productive year in terms of how out platform has grown!
In terms of improvements, we improved on how essential information is displayed in the platform, and how you can manipulate it to your needs. With this in mind, the new tags and filters play an essential role, and you can read more about Tags in our July update!
Our Instagram integration was reintroduced after some changes with Facebook, and speaking of Facebook, we introduced a new "Facebook Share Post Campaign". You can read about both of these here!
Aside from working on very visible improvements and introducing new features, we've been very busy behind the scenes on some really amazing improvements on the UX/UI front. If you've attended our "Share Your Brain" sessions this year, you'll have seen some nice "sneak peeks" of what we've been working on, and you can read a little more here during our chat with Jovi, who has been assisting us with this important project. We'll be releasing the first parts of these improvements next year, so keep your eyes peeled for some exciting news soon!
Speak Italian? Well so do we! (Or at least our platform supports the Italian language, we're still organizing lessons for the team). We've also been working on a more improved reporting functionality in conjunction with interested customers, and we're always looking for interested customers to help us test new features! If you're interested in Beta testing with us, then just get in touch!
2021 will be another year packed with new feature launches, improvements, and an even more streamlined way to create campaigns. We can't wait to share these with you, so stay tuned for more!
---
That's all of the updates for now, and as always if you have a suggestion for a new feature, or would love to see a specific improvement, then feel free to get in touch!