Advocacy Marketing - The New Competitive Difference In the SaaS Ecosystem
Slowly, but steadily, we are making a move to a subscription-based economy. Those of us in the business world have been noticing this for quite some time now; learning & talent, HRMS, sales automation, CRM, IT service management - these are all industries that have been subscription-heavy for several years now.
Every SaaS business needs to have a long, hard think about advocacy marketing. The reason is simple: close to 90% of consumers are heavily influenced by online reviews and ratings. Also, brand advocates are 5X more valuable than average customers so, yes, you really do want to make sure that your customer relations game is up to the challenge.
I've talked a lot about how advocacy marketing can help your business by placing you on the map and allowing potential new clients to find you more easily. The same applies if you're in the SaaS ecosystem - advocacy marketing is not something you can ignore. However, it's not only great for new business; it's also extremely helpful when it comes to preventing churn and keeping your monthly recurring revenue (MRR) as high as you possibly can.
Advocacy Marketing & Monthly Recurring Revenue (MRR)
As a SaaS marketer, you're most concerned with your MRR, as you should be. It's what fuels the subscription-based economy and allows you to breathe a little easier, even when sales are not happening as fast as you would like them to.
However, to maintain a reasonably stable MRR (and, hopefully, grow it), you need to constantly keep an eye on your churn rates. As David Skok, a serial entrepreneur, puts it: it's easy to replace a few hundred (and, sometimes, even a few million) dollars that churned with new subscribers.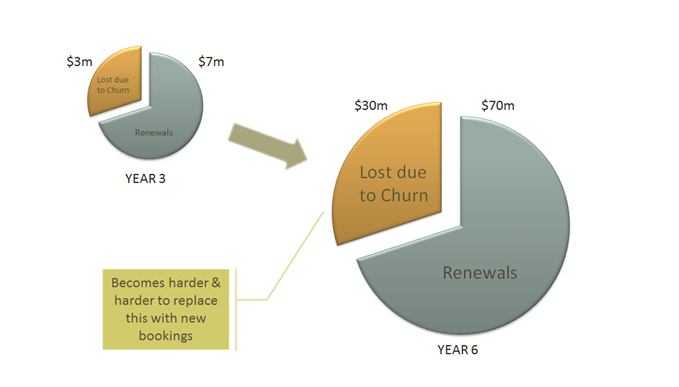 That's clearly visible from the Net MRR calculation: Net MRR = New MRR (new customers) + Expansion MRR(customers who upgraded) - Churn MRR (customers who downgraded or left).
The graph below might be simple, but it illustrates my point nicely. A small, $2000 monthly churn is easy to offset, but what if that churn was $30 million, as the pie chart above shows?
A SaaS company that bleeds $30 million every month will have a tough time staying afloat.



The way to manage that churn and keep it as low as possible is by having happy and successful customers. Those customers have their expectations exceeded at all times; they are engaged and they are positively surprised and rewarded from time to time.
Does this sound familiar?
That's because the steps you go through to create happy customers are the exact same steps that are used to create brand advocates! Naturally, the surest way to keep the churn rates low and grow your MRR is to set up an advocacy program. That way, you will regularly engage with your top customers, ensuring that they feel appreciated and supported at all times.
Growing Your SaaS Subscriber Base With Advocacy Marketing
Of course, advocacy isn't just helpful when it comes to maintaining enviable levels of customer satisfaction. A steady stream of new customers is always a welcome sight and that's where advocacy marketing can really help you.
As I've already mentioned, we're no longer dealing with blind consumers who can be easily swayed by slick marketing talk. Today's consumers have the Internet at their disposal - with just a few keystrokes, they can find out everything they need to know about your SaaS solution.
And that's exactly what they're doing. If you're in the B2B SaaS environment, you're constantly screened by potential customers. They are scouring the Internet in search of information about your product; reading reviews, watching videos, and monitoring social media conversations, and 80% of them say that those reviews and signals have a considerable impact on their decision-making process.
With a solid base of advocates, you will:
Be easily found online, through reviews or on social media sites
Be able to cultivate positive and convincing online word of mouth
Supercharging your online image with advocacy marketing is not difficult, especially for SaaS businesses.
There are four main areas you need to focus on:
1. Reviews
When people want to find out more about you, they type your brand (or product name) into Google and follow it with the word 'review'. Use brand advocates to leverage that behavior. Get your top customers to leave a review for you on Capterra and other online review sites.
2. Referrals
Another great tool at your disposal is a referral program. These programs are easy to set up and will quickly grow your subscriber base. A great example in this area is Blackbaud, a SaaS company that helps nonprofit organizations worldwide. In the space of two years (2013-2015), their referral program netted them 77 high-value customers, 125 sales opportunities, and 30 qualified referrals in just 6 days! For a B2B SaaS company, these are impressive numbers, especially if you consider that a yearly subscription to just one of Blackbaud's products is in the range of $15,000.


Keep in mind that referred customers are easier to turn into regulars. They will spend more, while at the same time incurring less cost since they were basically given to you.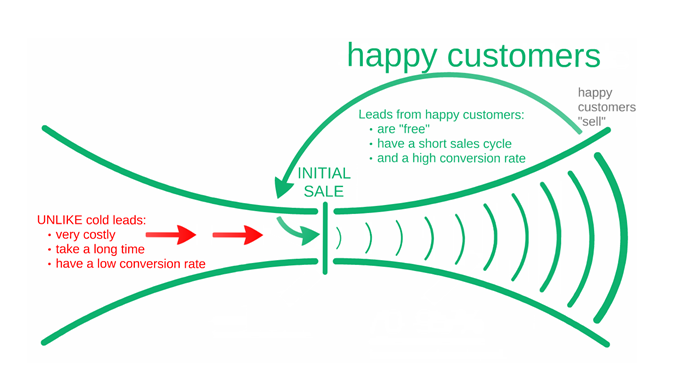 3. Online reputation management
I'm not just talking about having an army of satisfied customers answering to negative comments on Facebook or Twitter (although, that's helpful). I'm talking about building a helpful community that will serve as a crutch to your customer service team.
For example, Cisco supercharged their social media presence by inviting IT-savvy advocates to share their knowledge on Cisco's social media pages. Their goal was to increase their presence, but, at the same time, to help beginner users by connecting them to real pros. The campaign was a great success, generating over 8,000 social media mentions, 200 Cisco-related posts, and more than 100 posts by expert authors that were then published on Cisco's own blog.
4. Customer-centric stories
Research has shown that user-generated content often outperforms everything that brands put out. This holds true about images, posts, stories, you name it. However, you can take that one step further by taking that content and fashioning it into killer stories: testimonials, short blog posts, case studies, quotes, videos, and more. A well-crafted story that demonstrates how a specific customer (in name) has used your product to solve their problem will often trigger a purchase decision in indecisive prospects.
SaaS and Advocacy Go Hand In Hand
Setting up an advocacy program is not difficult and, with the right employee advocacy platform, you can have it up and running in no time at all. Considering the tremendous impact it can have on reducing churn and maintaining MRR, advocacy should be one of your top priorities, especially if you've been neglecting it up to now.
To learn more about how to identify, activate, and reward your brand advocates, follow the links - all the steps can be easily applied to a SaaS business. If you have any more questions, don't hesitate to contact me or leave a comment. In the meantime, if you have a story about SaaS and advocacy, feel free to share it below - I'd love to hear your first-hand experiences on the matter!